From the dragons' den to the boardroom
Final-year students in German have demonstrated their employability by securing interviews and internships with German companies after impressing in this year's German Business Student of the Year competition.
The competition, which takes place entirely in German, sees students work in teams to deliver a 20-minute 'pitch' for a business idea suitable for the German market. Students from all levels of study attended the event to the presentations to show their support for their participants.
From the outset, the competition has had the support of the regional Honorary Consul for the Federal Republic of Germany, Mark Green. As well as providing cash prizes, Mr Green has used his excellent business connections to help to arrange internships for the winner and runners-up.
This year's 'dragons' - Mr Green, his wife Anna Fleisch, and Professor Henk de Berg from the University of Sheffield - were most impressed by final-year students pitches. The prize was closely contested, but Philippa Pye's pitch for an eco-friendly drinks dispenser received the prize. Pippa wins a cash prize and a four-month paid internship with Deutsche Bank in Birmingham. All of the runners-up were also offered internships or interviews with Haribo Plc, Dr Oetker, Deutsche Bank, and a global translation company.
Giles Harrington, who coordinates the taught module that supports the competition, developed the idea in tandem with the Honorary Consul. Both were impressed: "The standard of the pitches this year was very high, even higher than last year. The level of business analysis was deeper, and the Dragon's questions more challenging. All the participants thoroughly deserve their opportunities and should be very proud of themselves".
This year's participants: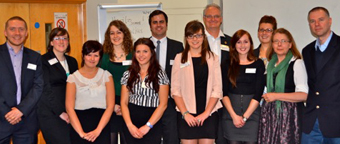 Back row (l-r): Giles Harrington (tutor), Vicky Fairless-Clarkson, Hannah Sheeran, Sam Benson and Laura Matthews
Front row (l-r): Sophie Wright, Rachael Nathan, Phillipa Pye and Selina Taylor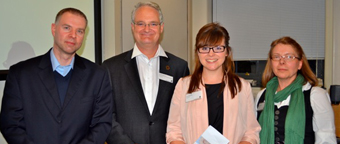 The winner, Phillipa Pye, pictured with the Dragons Professor Henk de Berg, Mr Mark Green and Mrs Anna Fleisch.