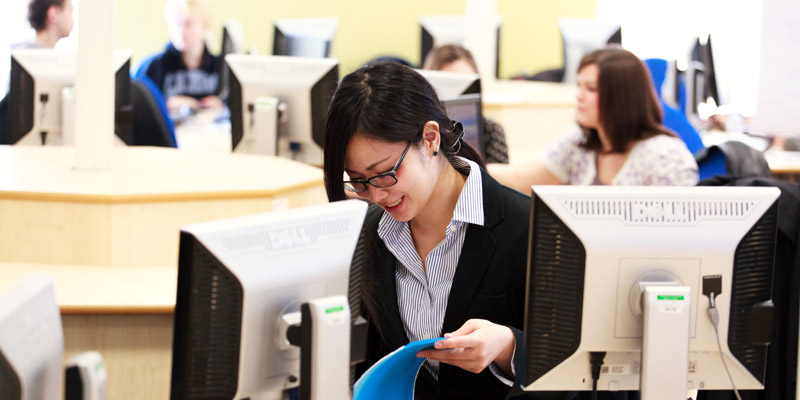 We're investing millions of pounds each year to ensure we maintain a first-class research environment, with £120m of refurbishment activity planned during the next two to three years.
Libraries
Leeds has one of the largest research libraries in the country and offers a range of workshops and advice for PhD and early career researchers including
advanced literature searching

measuring and improving your research impact

research data management

using the research data repository to search the latest research from Leeds
using EndNote, a reference management software to create reference lists and bibliographies
Search@Library provides easy access to online resources including 35,000 e-journals and over 500,000 e-books. You can reserve and renew your books through your library record.
Find out more about our libraries
Special Collections
Gathered over more than 100 years, the Special Collections attract students and academics from around the world. We are continually adding to its rich and extensive print and online resources, including some of the UK's most outstanding collections of rare books and manuscripts.
Leeds is the only library to have five of its premier special collections awarded 'designated status', recognised as collections of outstanding international importance by the Arts Council.
Computers and IT
As a postgraduate researcher at Leeds, you'll benefit from having access to:
extensive computer facilities and wi-fi coverage across campus on the international Eduroam network
1,700 centrally provided networked PCs – you can find them in dedicated computer clusters as well as in most of our cafes. Some are open 24 hours a day, ensuring you'll be able to study at a time that suits you
access to free or reduced cost software
Office 365 email service, which includes large quotas and free downloadable Office Professional Plus for students
You will also have access to specialist computing and software programmes related to specific subjects such as:
image analysis software
specialist applications including NVivo and Amos
AutoCAD providing comprehensive drafting capabilities in 2D and 3D plus solid modelling
LabVIEW a graphical development environment for creating flexible and scalable test, measurement and control applications.
mapping and GIS capabilities
qualitative data analysis
Research facilities
At Leeds, we have a large number of specialist research facilities to ensure you have access to the latest technologies and expertise including:
the national facility for innovative robotic systems
state of the art visualisation laboratories including a power wall in the School of Computing
flight simulators for aviation students
an electron microscope providing the capability required to visually examine a wide range of materials and assess their performance and quality
recognised special collections, including some of the UK's most outstanding collections of rare books and manuscripts
Learning languages

Whether you are looking to develop your English and academic study skills for your PhD or further your passion for languages, the specialist Language Centre based on campus can help you.
English language and academic study skills support
Our pre-sessional courses are designed for international students with an unconditional or conditional offer who would like to improve their English and academic study skills to help them prepare for a postgraduate research degree in the UK.
The Language Centre also provides part-time in-sessional classes for PhD students already studying at Leeds who may benefit from academic English language support.
Rosetta Stone
Our students have free access to the online learning package Rosetta Stone, giving you the opportunity to learn a wide range of languages from beginner to intermediate level.