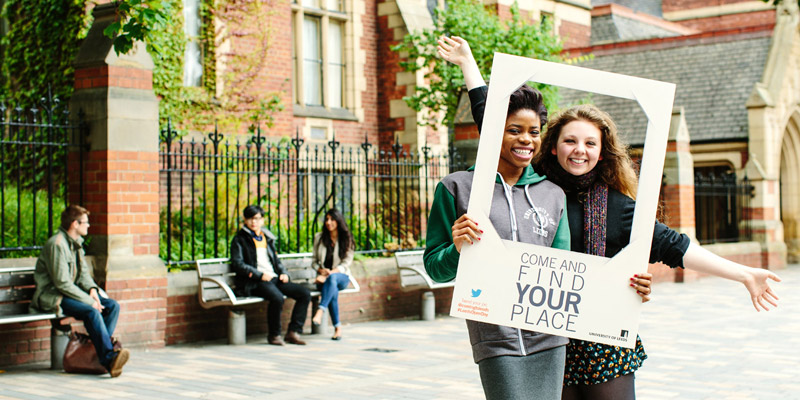 Choosing where to study is a big decision, which is why we encourage you to come and visit the campus to help you decide if the University of Leeds is right for you.
Please download our self-guided tour to make the most of your visit. For travel information and a campus map, see our find us page and download our directions sheet
Campus tours
From April 2018 we will be offering tours most Wednesdays during term time.
Campus tours are aimed at those who have not yet submitted their UCAS application, and are a good way to get a feel for the campus and to meet some current students.
The student-led walking tours of the campus will feature the following major facilities:
Leeds University Union
one of our libraries
our sports centre The Edge
one of our halls of residence (please note we may not be able to access individual flats and bedrooms)
Campus tours do not include visits to individual departments - if you wish to visit an academic department you should contact them directly beforehand to see if it is possible to look around. Please note that during term time departments are not always able to accommodate visitors due to teaching commitments.
Booking opens four weeks prior to each tour, so please return nearer to the time if you do not see a suitable tour.
To book your place on a campus tour, please check this page from early March.
We also run international campus tours if you are from outside the UK.
Independent visits
If you're unable to make a guided campus tour or you would rather explore the campus on your own, you can arrange an independent visit. You can visit at any time - but remember that University buildings are not normally open at weekends and if there is a particular academic department you'd like to see you should contact the department directly beforehand to avoid disappointment.
Open days
Our open day dates for 2018 are:
Friday 15 June
Saturday 16 June
Saturday 8 September
Saturday 6 October

Booking for the summer open days will begin in March 2018. Find out more on our open day pages
If you are an EU or overseas fee paying student, you can book an international campus tour. The tours, led by students, include the International Student Office, the Brotherton Library and our sports centre. They do not include visits to individual departments or accommodation.
As with all our campus tours, if you would like to visit an academic department, contact them directly. If you would like to view one of our halls of residence, contact the International Office after you have booked your tour. It may not be possible to visit our accommodation during term time if the halls are occupied.
For further information contact the International Office
If you have already applied
If you have an offer for a place at Leeds you can arrange a visit by contacting the admissions team through your chosen faculty or school website. For our undergraduate courses you will be invited to either an interview or post-application event, usually between January and March. Please check your offer pack for more information.