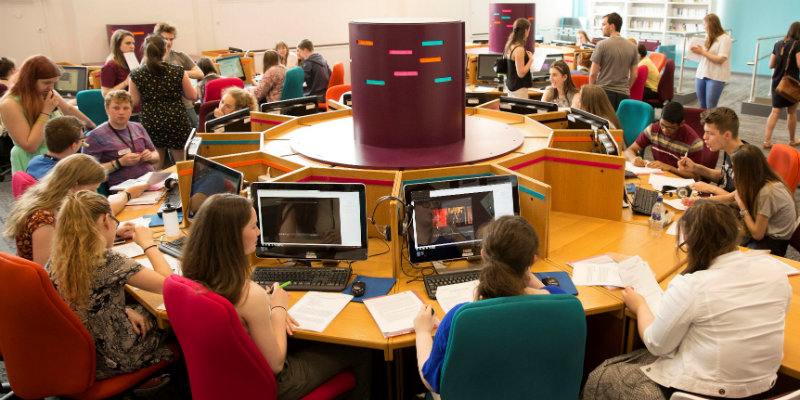 Arts Educational Engagement offers a wide range of activities based around their core subject areas which include:
Broadcast Journalism
Cinema and Photography
Classics
Communications and Media
Design
English Language and Literature
Fine Art, History of Art, Cultural Studies and Museum Studies
History
History of Science, Medicine and Technology
Languages (French, German, Spanish and ab initio)
Music
New Media
Philosophy
Theatre and Performance
Theology and Religion
School Outreach Programmes 2016/17
Discover the range of events and activities we are offering Key Stage 3 - Key Stage 5 students. Sessions are available on campus, at your school and at our partner galleries. Full details and how to book an activity can be found in our guides:
Discover ARTiculation 2017

Discover ARTiculation is a competition for Year 10 and 11 students which aims to encourage the expression of opinions, thoughts and ideas about art with confidence. Entrants are invited to submit (via their school) a 2-3 minute film of themselves speaking about a work of art, an artefact or a piece of architecture of their choice. Judges from the University of Leeds and our partner galleries will view each film, looking at content, structure, delivery and the speaker's original approach and unique potential before shortlisting those who go forward as finalists.
Finalists will be invited to speak at our Articulating Art & Culture Experience Day which will take place at the University of Leeds on Wednesday 12 July 2017. To enter please email Ellie Johnson. The deadline for film entries is Friday 10 March.
Modern foreign language teacher resources
Classroom aids
We are pleased to introduce a set of new materials for A level teachers of French, German and Spanish. The new resources offer guidance to those teaching film and literature as part of the new A level curricula. We hope these classroom aids will prove useful as schools transition to teaching the new qualifications.
CPD Films
We have developed a collection of films Teaching Foreign Languages to support those who will be delivering the new A levels in French, German and Spanish. Dr Matthew Treherne, Head of the School of Languages, Cultures and Societies introduces the series.
Transcripts for each of the films are available to download: French Film, French Literature, German Film, German Literature, Spanish Film, Spanish Literature and the Film Series Introduction
Each of our academics have offered advice, notes and suggested texts for teaching literature and film to A level language students.
Contact us
For further information on how we can support teaching in schools or to book a places on any of our subject-specific activities, please email the Arts Engagement Team or phone 0113 3437640.