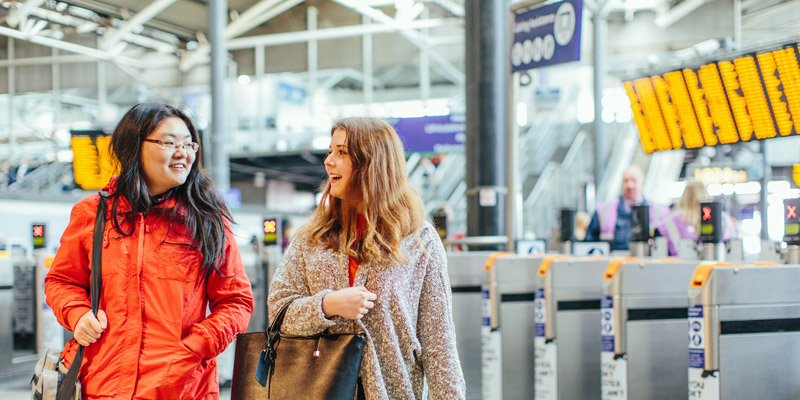 We are looking forward to welcoming you to the University of Leeds. We understand the impact that the current situation surrounding Coronavirus (COVID-19) could have on your plans to study at Leeds as an international student. We want to reassure you that we are continually reviewing the situation and taking all necessary steps to support you and your safety.
We are currently preparing your welcome support and your induction programme to make your studies with us enjoyable and successful. We will provide updated information about these soon in our emails to offer holders and on this website. If you have questions about your plans to study at Leeds please read our applicants and offer holders page. 
When you should arrive
When planning your travel, you should make sure you have somewhere to stay on your first night. Plan to arrive after your accommodation contract starts or arrange temporary accommodation if you would like to arrive earlier.
Take the time to research the different types of accommodation on offer. During the September welcome period there are accommodation assistants to help you to find a place to live. At other times you can visit the International Student Office for help and advice.
If you arrive from 11 to 18 September 2020, you can be helped by our Meet and Greet service.
You should also take note of when each term starts and when your examinations are likely to take place.
Some schools teach outside these dates (for example the Business School) so please confirm teaching dates with your admissions tutor. Postgraduates on courses longer than nine months will need to stay after the end of term three.
What to do when you arrive

Our website for current students has information to guide you through your first few days in Leeds. When you arrive, you will be able to collect a welcome pack, which has maps, information about activities and events, and a guide called Your Arrival to help you get started.
If you arrive from 10 to 25 September 2020, visit the International Student Information Point in the Michael Sadler Building to collect a welcome pack and sign up for a welcome talk. Our welcome team will be available to help answer any questions you may have.
The International Student Orientation sessions provide essential information about a range of topics and the support and opportunities available to help you get the most out of your time in Leeds. Our website for current students has information about which of these sessions you should attend. Most sessions are during International Welcome Week.
If you arrive outside of the September welcome period, visit the International Student Office to speak to our team for information to help you settle in.
Language Centre students arriving for a pre-sessional course and Study Abroad, Exchange or Erasmus+ students arriving in semester two, will receive emails with details of the orientation sessions and welcome information.
When you arrive in Leeds, you may need to register with the police, depending on where you've come from and how long you'll be here.
Important dates when you arrive
welcome talks and international welcome packs: all year
Meet and Greet service: 11 - 18 September 2020, 08.30 - 22.00
International Student Information Point: 10 - 25 September 2020
International Welcome Week: 14 - 20 September 2020
Business School Postgraduate Induction (postgraduate students only): 14 - 25 September 2020

International Student Orientation sessions (for undergraduate and postgraduate students): 17 and 18 September 2020
Freshers' Week: 21 - 27 September 2020