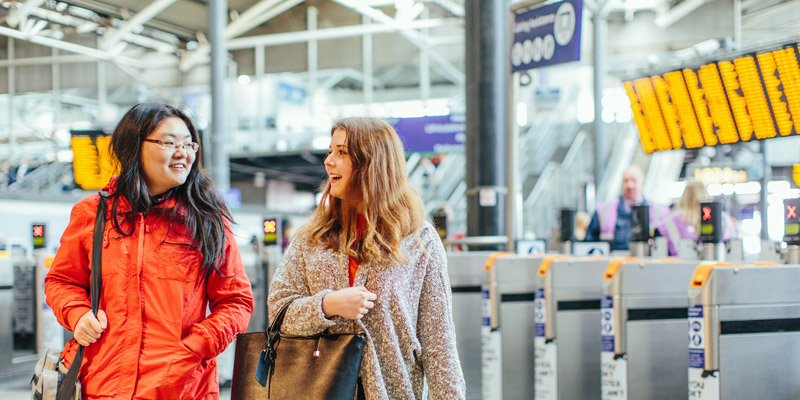 When you should arrive
We understand that in the current situation you may not be able to arrive in Leeds in time for the start of your course and you may need to self-isolate when you arrive. Don't worry, you'll find information and support to help you whenever you arrive. Please keep your school informed about your situation if you will be arriving later.
Things to check before you book your travel:
Information from your school about your induction and programme start dates and any special requirements
Check with your school about any specific requirements for you to be studying on campus by a certain date. If you cannot travel to Leeds at the start, contact your school for advice.
Brexit information, if you are an EU/EEA or Swiss national please read our Brexit page for students as the information may affect your choice of arrival date. If you require a visa, you will need to take some action before 11 December 2020.
University arrangements during the winter vacation. Please note that the University is closed for the winter break from 21 December 2020 to 4 January 2021, although key arrival services will be available during this time. More information about services and activities during the winter vacation will be available here soon.
When you can move into your accommodation: Make sure you have accommodation booked for your first night and for 14 days in case you need to self-isolate on arrival. If you need to arrive before your accommodation contract starts, ask your accommodation provider if you can arrange early arrival. Book temporary accommodation in advance if you need to arrive before you can move into your permanent accommodation. If you don't have permanent accommodation confirmed yet, contact our Accommodation Service who will assist you to find accommodation. Email: accom@leeds.ac.uk or phone: +44 (0)113 343 7777.
The valid date on your visa if you have one: if you have a visa, it is important to check the 'valid from' date on your visa vignette. You must not attempt to enter the UK before this date.
Term, teaching and exam dates if you are booking return travel: Check with your school and on our term dates page before you book return travel on a specific date.
Travel, arrival and self isolation support
Plan your journey and arrival
Our travel information page gives you information to help you plan your journey.
Make sure you carefully read the UK government rules on who needs to self-isolate on arrival in the UK, and how to self-isolate. This explains what guidelines must be followed during the journey and on arrival, including rules about not leaving accommodation during the self-isolation period. Keep checking this guidance before and after you arrive as it is changing very regularly.
Book your arrival and self-isolation support
Complete the international arrivals form as soon as possible to tell us about your travel plans and book your arrival and self-isolation support. You can update this later if you change your plans.
Arrival services
We are running a transport service to the University from Manchester Airport and Leeds Bradford Airport up to the end of February 2021. You must book your transport service at least four days in advance of your arrival. If you are arriving between 23 December – 4 January, it is essential to book before Friday 18 December to ensure we can provide your transport and self-isolation support. If you are arriving after February 2021, please check this page for updates nearer the time.
Self-isolation support
You can be reassured that we'll support you if you need to self-isolate when you arrive.
Link to Leeds student ambassadors will be available for you to chat to online to help you settle in and make friends.
You can use the international arrivals form to book a free welcome starter food box and information about local online food shopping.
Check whether your accommodation provides kitchen equipment and bedding, or if you need to buy this. You can order a kitchen and bedding pack, and a toiletries pack from the University, so you have what you need when you first arrive.
International arrivals support
Find help with questions about our transport and self-isolation services and ask for any support you need on the day of your arrival.
Contact us:
International Arrivals Helpdesk East Entrance, Marjorie and Arnold Ziff Building, University of Leeds.
Email: internationalwelcome@leeds.ac.uk
Tel: +44 (0)113 3439599
Service hours (7 days a week)
Until 23 December: helpdesk and email 9am - 5pm. Phone 9am – 8pm
24 - 27 December: email and phone for urgent support 9am – 8pm
From 28 December: helpdesk, email and phone 8am – 8pm
Lost and delayed luggage
You can contact International Arrivals helpdesk for support if your main luggage does not arrive on your flight.
What to bring with you
Make sure you read our what to bring page as part of your preparation.
Getting started at Leeds
You'll find lots of information online to help you get started, in your International Welcome Guide and International Orientation and from Leeds University Union.
Our Student Information teams will be here to answer your questions online, by phone or in person.
You can also chat online to current students from our Link to Leeds ambassadors team.