Yorkshire Sculpture International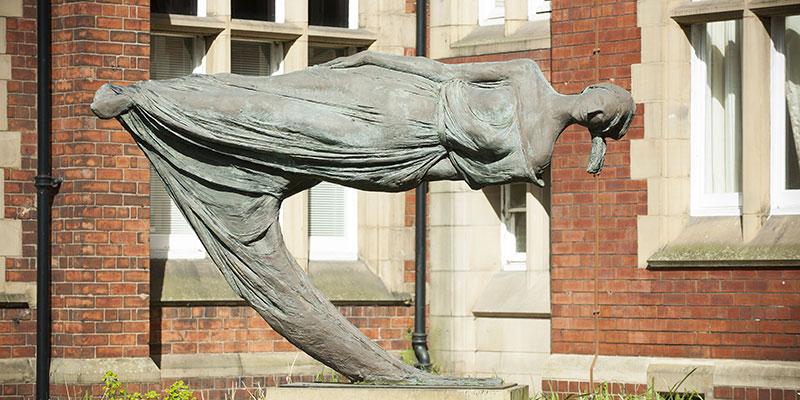 We have partnered with Yorkshire Sculpture International – a 100 day festival of sculpture. We have a shared ambition to support talent development and student engagement through public events and professional skills development activities.
Launching in 2019, Yorkshire Sculpture International is the UK's largest sculpture festival. A series of exhibitions, international commissions, events and learning programmes will celebrate sculpture across four galleries: the Henry Moore Institute, Leeds Art Gallery, The Hepworth Wakefield, Yorkshire Sculpture Park – and outdoors in Leeds and Wakefield.
Yorkshire Sculpture International is a fantastic and ambitious opportunity to build on our strong tradition of partnership with all four of the great Yorkshire arts institutions involved.
Events
Sculpture in the Round: Conversations about public art
A series of conversations will explore the nature of sculpture in the public realm from various perspectives – posing questions such as: Who is it for? What is its role in society? Who makes it? Where and how is it located?
The curated conversation events are free and open to all, and have been coordinated by the University's Cultural Institute.
A Conversation about Sculpture and Place with Huma Bhabha
Saturday 22 June, 2pm – 4pm
On the opening day of Yorkshire Sculpture International, world-renowned artist Huma Bhabha will discuss her work, influences and major new commission for the centre of Wakefield, with Yorkshire Sculpture Park's Director of Programme, Clare Lilley.
Working almost entirely in figurative sculpture, Bhabha's approach is unconventional and cross-cultural, making connections between histories, languages and civilisations.
This conversation will provide a starting point for a wider discussion about sculpture and place, chaired by University of Leeds Associate Professor Dr Joanne Crawford. Panellists from a range of backgrounds will consider
who is sculpture for?
what role does it play in society?
where and how it is located?
Liliane Lijn in Conversation
Wednesday 3 July, 6pm – 8pm
Nexus, University of Leeds
Over summer the University will welcome a new artwork to campus, the specially-commissioned Converse Column by internationally renowned British-American artist Liliane Lijn, in connection with our new innovation hub Nexus.
To celebrate the launch of the artwork, Lijn will discuss her work, influences and major new commission for the University of Leeds, with Leeds Art Gallery's Curator of Modern and Contemporary Art, Nigel Walsh. Lijn works with kinetic text and is a pioneer in the interaction of art, science, technology and language. Book your place
Is sculpture the most anthropological of the art forms?
Thursday 4 July, 6pm – 8pm
Join Yorkshire Sculpture International's Producer Jane Bhoyroo as she chairs an exciting round table discussion exploring the festival's provocation: sculpture is the most anthropological of the art forms.
Panellist Laurence Sillars, Head of the Henry Moore Institute, will let you in on behind the scenes curatorial discussions from the festival. Plus experts from diverse fields such as Yorkshire Sculpture International artist Tau Lewis, Will Rea, Senior Lecturer in Art at University of Leeds and Dr Adam Strickson, Teaching Fellow in Theatre and Writing will bring a new perspective to the conversation.
Working in Sculpture: Gender, Diversity and Creativity
Thursday 11 July, 6pm – 8pm
stage@leeds, University of Leeds
Professor Griselda Pollock, art historian working in international, postcolonial feminist studies in the visual arts, will chair a roundtable discussion exploring the experiences of women working in sculpture. This event will bring together artists with those involved with collecting, commissioning and the art market.
This event will explore gender, making sculpture, feminism and wider challenges related to cultural identity. It will focus on the Arts Council Collection's new touring exhibition of sculpture by women, public realm sculpture by women at the University of Leeds and new commissions for Yorkshire Sculpture International. Speakers include:
Eleanor Clayton, Curator at The Hepworth Wakefield
Natalie Rudd, Senior Curator at Arts Council Collection
They will be joined by invited artists to enable the fullest exploration of sculpture making today. This event is part of the Sculpture in the Round Conversations series organised by University of Leeds and Yorkshire Sculpture International, and in partnership with Arts Council Collection.
The Science of Making Sculpture: Material
Thursday 12 September, 6pm – 8pm
School of Chemical Engineering, University of Leeds
This session will bring to light the hidden aspects of making large-scale, innovative sculpture. Drawing on engineering and materials science we will explore the science and engineering that makes sculpture happen. This is your chance to unpick what it takes to make sculpture with artists, technicians and material scientists.
Sculptural Encounters in Leeds walking tour
Saturday 14 September, 1.30pm – 3.30pm
Leeds City Centre walking tour
Discover the sculptural heartbeat of Leeds, from the energetic Legs Walking by Kenneth Armitage to the relaxed The Dreamer by Quentin Bell.
This walking tour will reveal the hidden histories of Leeds, beginning with the once forgotten Central Court at Leeds Art Gallery, brought to life by artist Ayse Erkmen for her new commission, to Joseph Beuys' 7000 Oaks tree which is often overlooked in the city centre.
The tour will include a wide range of sculpture located on our campus, including recently installed works, before ending at our Stanley & Audrey Burton Gallery. Enjoy a well-deserved cup of tea and slice of cake to round off the day. This event is part of Heritage Open Days.
Virtuality in Art
Wednesday 18 September, 6pm – 8pm
University of Leeds campus
This event will reveal how artists are exploring virtual realiy in their work. From works augmenting sculptures with projections to the exciting avenues that the virtual space opens to artists as a platform.
Join University of Leeds' leading researchers in virtual and augmented reality and other artists and curators working in this area to explore what this could mean for artists both in the present and the future.
Student opportunities
Curators from the Yorkshire Sculpture International programme have delivered guest-lectures for students including a two-day insight into curating.
Seven students from our MA programmes are currently undertaking placements with Yorkshire Sculpture International as part of their course. They are working in curatorial, engagement, evaluation and marketing areas with the Yorkshire Sculpture International team and across the different institutions participating. Their placements will continue until early May.
Two more students will undertake a three month paid internship over the summer to help deliver events, work with volunteers and evaluate the Yorkshire Sculpture International programme. The roles are flexible to allow the students to explore their own interests, working directly with artists and curators.
The partnership has also offered training for student ambassadors to assist with cultural events, improving skills and opportunities.