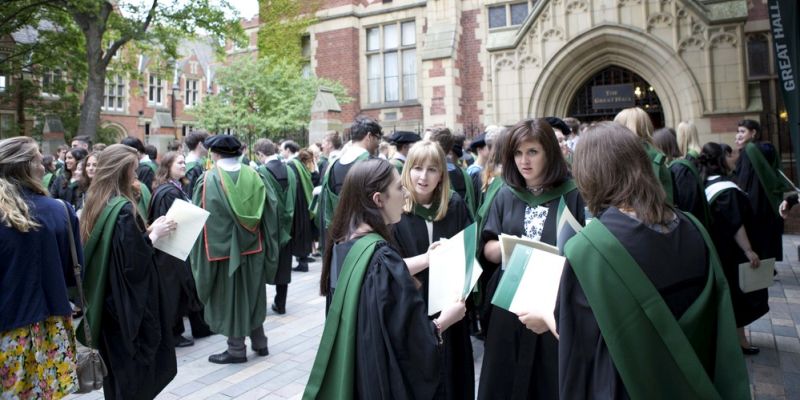 As our ground-breaking research feeds directly into our teaching, students share in the knowledge of our academics, becoming independent critical thinkers and unlocking their full potential. This, combined with the range of work experience and career development services available to them, makes our graduates highly employable and ready for the world of work:
The latest High Fliers report, The Graduate Market in 2018, has ranked Leeds in the top 10 most targeted universities in the UK by graduate recruiters
Over 1400 undergraduate students undertook international study or work experience in 2016-17, including medicine elective placements
In 2016-17 over 80 students undertook internships providing three-month summer projects supporting the development and productivity of regional small and medium-sized enterprises and charities
We work with strategic partners such as Marks & Spencer to create student placement opportunities to meet their emerging business needs and develop the employability of our students
Each year our students undertake voluntary outreach and aspiration raising activity in local schools, equivalent to delivering 443 weeks of classroom support
3,500 students volunteer through local, national and international projects every year
"Outstanding student satisfaction levels do not happen by accident and reflect the emphasis placed here on getting the student learning experience spot on … It is no wonder that Leeds' graduates are so sought after by employers."
Recruiting our students
All businesses have access to our dedicated employer team to engage with a broad range of services including vacancy advertising, employer presentations and fairs. We will work with you to develop and promote work placements and internships. This one stop shop will enable you to access specialist employer provision in our schools and faculties.
For full details of how we can help you, visit the careers centre employer pages, email employerteam@leeds.ac.uk or phone (0113) 3435290.
You can also download our employer engagement brochure
Internships and work placements
Your organisation can benefit from the specialist skills, new ideas and enthusiasm of our students by offering internships or work placements. They are a great way to get a project completed, or assess whether a role is needed on a longer-term basis.
"Employing these high calibre students brings fresh new ideas to the business and allows us to initiate projects which might otherwise not have been possible."
We work with businesses, charities and the public sector to advertise internships and 12 month work placement opportunities to students and recent graduates. Sector specific opportunities are also offered through our faculties. If you are looking for a specialist skill set, we can put you in touch with the relevant faculty team. Whether you have an existing vacancy or want to discuss creating a new opportunity, contact us by email at workexperience@leeds.ac.uk or phone (0113) 3435361.
Career fairs and on-campus events
We have a number of fairs across the academic year open to all University of Leeds students, enabling you to promote your opportunities to a diverse cohort of students. The Graduate Jobs and Internships Fair which takes place in semester 2 is open to all UK university students, not just those from Leeds.. We host faculty-specific events and, if appropriate, arrange bespoke activities to suit the needs of your organisation. For more information email employerteam@leeds.ac.uk or phone (0113) 3435290.
Casual, part-time and holiday jobs are advertised by the Student union's joblink service
Volunteering
If you are a UK-based third sector organisation, charity, community group or public sector organisation looking for volunteers in the Leeds area, there are thousands of students keen to develop their skills and give back to the community. Our dedicated volunteering team can offer guidance and support along with advertising vacancies through the volunteering hub. For more information email volunteer@leeds.ac.uk or phone (0113) 34337445.
Leeds Network
The Leeds Network is a secure online database of Leeds alumni who have given details about their careers to inspire students to take the next step in their career. You can get involved in two ways:
offer guidance and support to students by answering careers related questions
provide a profile about you and your career developments which students can read for inspiration