Financial summary for 2013/14
Overall financial position
What was our overall financial position in 2013/14?
In 2013/14 the University made an operating surplus (after depreciation and before tax) of £38.6m, as our total income exceeded our total expenditure by this amount. Generating a surplus is important as it enables investment in the development of academic excellence and the infrastructure of the University, whilst maintaining a sound financial position in an increasingly challenging and volatile funding environment.
Where did our income come from in 2013/14?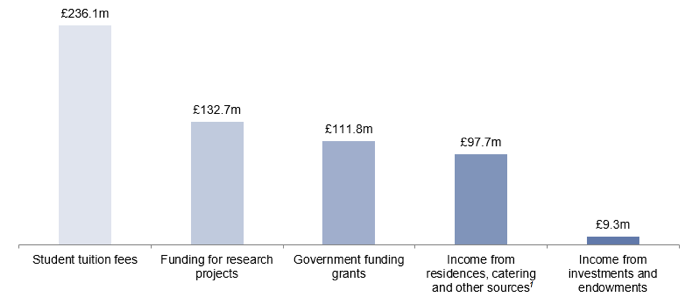 How has the make-up of our income changed since 2011/12?
Income in 2011/12: £537.6m
Income in 2013/14: £587.5m
In 2012/13 the funding regime for universities was changed as the new £9,000 fees for Home/EU undergraduate students were introduced, to coincide with a reduction in the value of Government funding grants. We forecast that Government funding grant income will fall to the point at which it only represents around 12% of our total income by 2018/19. With the increased financial commitment now required from students, we have continued our efforts this year to deliver an exceptional student experience, including significant investment in academic departments, premises, and student support.
The total value of our research income has increased between 2011/12 and 2013/14, which reflects our commitment to being an outstanding research university.
What activities did we spend our money on in 2013/14?
How has the make-up of our expenditure changed since 2011/12?