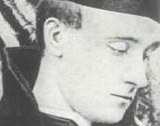 The University of Leeds has acquired a collection of books and manuscripts relating to Baron Corvo, one of the most controversial English novelists of the early 20th Century.
The Desire and Pursuit of the Whole, and Hadrian VII are regarded as significant pieces of Victorian literature and although he did not enjoy great sales in his lifetime, Corvo is now recognised as a lively and original novelist.
Corvo - real name Frederick Rolfe - also inspires considerable devotion among his followers for his non-conformity and the deeply unconventional life he led following his artistic muse.
Born in London in 1860, Rolfe converted to Catholicism in his teens, and trained for the priesthood in Scotland and Rome but was expelled on both occasions. After being conferred with the title 'Baron Corvo' by a duchess, he returned to England and pursued a career as a writer, historian, translator, painter and photographer, bank-rolled by a variety of well-wishers.
As soon as Corvo had exhausted the generosity and patience of one benefactor, his charisma and talent would ensure he found another, often in the discreet contemporary homosexual community. He left England for Italy, and died in Venice in 1913.
Hadrian VII appeared in 1904 and tells the story of a hero, a fictionalised self-portrait, who is plucked from obscurity in England to be Pope and proceeds to set the world to rights.
D.H. Lawrence and Graham Greene admired Corvo's life and works for their single-minded, self-regarding intensity. The character of Pinky in Greene's Brighton Rock owes much to Corvo. Peter Luke's play Hadrian VII, in which Corvo himself is featured, was highly successful in the 1960s
Francis O'Gorman, Professor of Victorian Literature at the University of Leeds, said: "He was a writer of self-preoccupied and quirky power, a unique and rather absorbing mixture of the compelling, repelling, infuriating, and enduringly charismatic."
A.J.A.Symons's celebrated experimental biography The Quest for Corvo (1934) still introduces many readers to its subject, though it is as much about the challenge of finding out about Corvo's mysterious life as about the man himself.
The collection being acquired by the University of Leeds was assembled by Donald Weeks, who gained fame for his collection as much as his personality. Reading Symons's biography in the 1950s inspired Weeks, a Detroit-based commercial artist, to abandon his career and move to England to conduct his own quest for Corvo.
For some 40 years he sought out every person he could find who was connected with Corvo in some way, collecting relevant books, manuscripts, letters, photographs and other material from them. His dedication to this pursuit and the collection he assembled became legendary.
When Weeks died in 2003, the extent of his collection and its exact whereabouts were unknown. Matters were resolved by 2009, when much of the collection, contained in some 40 large boxes, was handled by the leading London booksellers Maggs Bros. It is likely to be one of the richest resource for the study of Corvo in the world.
The collection has been acquired for the University of Leeds Library by Fay and Geoffrey Elliott, the Library's greatest living benefactors. It joins related gifts from them, including the collection of 1890s literature created by another celebrated collector, the late Alan Clodd, and many other remarkable books and manuscripts by Oscar Wilde, Aubrey Beardsley and their contemporaries.
Chris Sheppard, Head of the University's Special Collections, said: "Weeks's collection is amazing - the result of a man's obsession with a writer who was obsessed with himself!
"We are beginning to get to grips with the collection's research value in relation to our other growing resources and its potential for catching the imagination of our students is enormous. Yet again, we're very grateful to Fay and Geoffrey Elliott for opening up so many unique possibilities for the University of Leeds and all who use the Library here."
For further information:
Please contact the University of Leeds Press Office on +44 (0)113 343 4031 or email pressoffice@leeds.ac.uk
Notes to editors:
The University of Leeds is one of the largest higher education institutions in the UK with more than 30,000 students from 130 countries and a turnover of £450m. The University is a member of the Russell Group of research-intensive universities and the 2008 Research Assessment Exercise showed it to be among the top UK research powerhouses. The University's vision is to secure a place among the world's top 50 by 2015. http://www.leeds.co.uk/