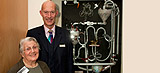 A keynote lecture by DeAnne Julius, one of the founder members of the Bank of England's Monetary Policy Committee, is among the highlights of a five-day celebration of economics at Leeds this week.
Dr Julius, chairman of Chatham House and one of the world's leading economists, will deliver the prestigious Corporate Wisdom lecture titled: 'Aftermath of the global recession: lessons for government and business' on Wednesday 13th October.
Meanwhile, Malcolm Sawyer, Professor of Economics at Leeds University Business School, will deliver a lecture on the future of the Eurozone and the University will also pay tribute to the Newlyn-Phillips Machine - a prototype hydraulic computer built in 1949 for modelling the economy.
The machine was developed by Bill Phillips, a student at the London School of Economics, and Walter Newlyn, a friend and lecturer at the University of Leeds and uses water to demonstrate the impact of government policy and economic conditions on the circulation of money and the level of output in the economy.
A ceremony will be held at Leeds University Business School on Monday 11th October at which the recently-refurbished machine - the first to be built and one of only three remaining in the UK - will be unveiled, along with a piece of art it inspired which was designed and created by Kate Newlyn, Walter's daughter. His widow, Doreen Newlyn, will attend the ceremony along with the Dean of Leeds University Business School, Professor Peter Moizer, and invited guests.
Economics Week at Leeds University Business School runs from 11th to the 15th October and is a week-long celebration of economics.
Dr Julius will give her lecture to prominent business leaders in Yorkshire at 7pm on Wednesday 13th October. She was a founder member of the MPC from 1997 - 2001 and went on to serve on its Court. Prior to joining the MPC, she held a number of senior roles in the private sector including chief economist of British Airways and Shell. She is also a non-executive director at BP, Roche and Jones Lang LaSalle.
The Corporate Wisdom lectures, designed and run by Leeds University Business School (LUBS) in partnership with DLA Piper, are among Yorkshire's leading lecture series and a firm fixture in the Yorkshire business calendar.
Professor Sawyer will deliver a breakfast seminar 'On the Rack - The future of the Euro and the euro zone: will they survive and prosper?' at 8am on Tuesday 12th October. He will argue that the fiscal policies of the euro zone as currently dictated by the Stability and Growth Pact must be radically altered with new fiscal policies being introduced which would enable it to support rather than punish countries whose economies are struggling.
Dr Martin Carter, Head of Economics Division at Leeds University Business School, said: "We have lectures by leading economists on two of the most important issues facing the economy today - what we can learn from the global downturn, and the future of the euro zone."
Image: Doreen Newlyn, Peter Moizer and the Econocaust sculpture
For further information:
Please contact the University of Leeds Press Office on +44 (0)113 343 4031 or email pressoffice@leeds.ac.uk