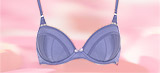 Soozie Jenkinson will take centre stage at the University of Leeds on Friday 5th November, to give a free, public talk "M&S Lingerie: Supporting Women Since 1926".
With one in three women in the UK wearing an M&S bra, Soozie Jenkinson, M&S Head of Lingerie Design & Product Direction and Paschal Little, M&S Head of Technology, Lingerie will provide an insight into how the company has shaped its business and will chart the evolution of lingerie for the leading British retailer. The lecture will highlight the important role of technology within M&S's most innovative products and how the company is committed to ethical trading through initiatives such as the establishment of an eco-factory in Sri Lanka.
The talk launches the second series of Marks in Time lectures, a programme of informative talks delivered by key M&S executives and University of Leeds academic experts. These talks celebrate the unique partnership between one of Britain's leading retailers and one of Britain's leading universities and mark the recent construction work taking place on campus for the relocation of the Company's Archive to Leeds.
Image courtesy of the M&S Multimedia Library
For further information:
Please contact the University of Leeds Press Office on +44 (0)113 343 4031 or email pressoffice@leeds.ac.uk