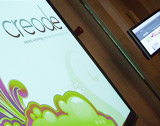 Award winning web design company, Creode, celebrates its first birthday this week.
Created by James Hannaford and Luke Harrison, both 22, this young and innovative company is proving that it is possible to buck the trend and prosper in the current economic climate.
Since graduating from the University of Leeds last year, James and Luke have nurtured a growing business, winning the Leeds University Business Plan Award within the early months and going on to record profits over and above expectations.
Boasting a highly skilled creative and technical team, Creode continues to develop, attracting high end clients and competing with larger, more established agencies.
Within the next year, the company plans to further increase its industry standing, creating a position for itself in amongst its largest competitors.
The immense success of the past year and the foundations for future growth are owed in great part to generous support from the Leeds University Spark programme, Business Link Yorkshire and Yorkshire Forward.
These organisations have provided instrumental advice and opportunities whilst the Proof of Concept grant provided through Yorkshire Forward also offered invaluable financial support.
Combined with the talent and dedication of the Creode team, these initiatives have helped to ensure that enterprise and innovation can flourish even in today's unforgiving and highly competitive economic climate.
For further information:
Please contact the University of Leeds Press Office on +44 (0)113 343 4031 or email pressoffice@leeds.ac.uk