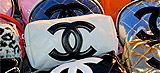 Losses from counterfeiting for the Yorkshire and Humber region are estimated to be at least £537 million per annum, a new report commissioned by the Nanofactory consortium shows.
This headline figure does not include potential losses from employment or reduced tax income, so actual losses could be much higher.
Nanofactory is a Yorkshire-wide initiative set up to encourage the uptake of emerging technology in the region and is part-funded by European Regional Development Fund (ERDF). It involves six of the region's universities, including the University of Leeds.
The report highlights the wide range of market sectors that are being threatened by counterfeiting. These include food and drink, automotive, chemicals, consumer goods, textiles, personal care and pharmaceuticals.
As the threats from counterfeiting continue to grow, a trend that is especially likely during a recession, small companies are being affected as well the major brands. Companies that can introduce solutions to these threats and reduce their losses will save jobs.
A wide variety of high technology material solutions can provide cost-effective methods of preventing counterfeiting and enabling brand protection. These solutions allow all companies - large and small - to protect against losses due to counterfeiting and help ensure brand reputation.
Nanofactory is now helping local companies learn more about the opportunities for brand protection and the expertise available in the Yorkshire and Humber region. Companies from across the Yorkshire and Humber region are invited to a free event at the Cedar Court Hotel in Wakefield on 29 November where they can listen to speakers from academic and industry and network with some of the region's key technology providers.
The line-up of speakers will include Professor Long Lin (University of Leeds), Mark Shaw (Royal Mint), Lee Metters (Domino), Robert Stewart (Innovia) and Zahir Ahmed (Master Technologies). Their talks will cover a wide range of anti-counterfeit technologies and applications ranging from textiles to counterfeit currency.
Companies interested in attending the event should contact Nanofactory at info@nanofactory.org.uk or on 0113 343 2402 as soon as possible. The deadline for registration is Friday 26 November.
For further information:
Please contact the University of Leeds Press Office on +44 (0)113 343 4031 or email pressoffice@leeds.ac.uk
Notes to Editors:
Nanofactory
The Nanofactory - which brings together nanotechnology experts from the universities of Bradford, Huddersfield, Leeds, Sheffield, Sheffield Hallam and York is looking to form partnerships with companies interested in exploring new business opportunities based on latest advances in nanotechnology
The project is part-funded by a £1m investment from the European Regional Development Fund as part of the Yorkshire and Humber ERDF Programme that is making substantial investments over the next 3 years to create jobs and increase business competitiveness in the region.
Yorkshire and The Humber ERDF Programme 2007-2013
The regional ERDF Programme, approved in December 2007 was launched in February 2008. The programme is managed by Yorkshire Forward on behalf of a regional partnership including the National Government, European Commission and Regional bodies.
The programme provides access to up to €583 million from the European Regional Development Fund to invest in the region by 2013 with €271m for South Yorkshire and €312m for the rest of the region. South Yorkshire has extra resources to help with its transition from its earlier Objective 1 status.
The European Regional Development Fund is one of the European Union's major financial instruments for supporting regional economic development across Europe. It is provided to support the European Union's cohesion policy that seeks to redress imbalances in development between regions. It is used to support projects that can help local economies address the challenges of globalisation and contribute to delivering Europe's Lisbon Strategy of growth and jobs.
Further information about the ERDF Programme in Yorkshire and The Humber is available at www.yorkshire-forward.com/erdf
European Regional Development Fund
The European Regional Development Fund (ERDF) was set up in 1975 to stimulate economic development in less prosperous regions of the European Union (EU) and to act as a significant instrument with which the EU can support its Cohesion Policy.
As EU membership has grown, ERDF has developed into a major instrument for helping to redress regional imbalances. The Department for Communities and Local Government (CLG) manages ERDF in England.
Between 2007 and 2013, England benefits from an investment of €3.2 billion (approx £2.5 bn) of ERDF. It is delivered by regional programmes in each English region, managed by the Regional Development Agency. England also receives €177 million ERDF for two national cross-border co-operation programmes with France, Flanders and the Netherlands and another €193.8 million is available to the United Kingdom for participating in three trans-national co-operation programmes across the North West Europe, North Sea and Atlantic areas.
ERDF is directed at projects offering substantial benefits which meet the needs of an area and would not take place without a grant. It is used to provide help towards the project costs with grants set at a minimum level required to allow the project to go ahead. As a general rule, however, the EU contributes no more than 50% of the eligible cost with the rest of the funding, known as 'match funding' coming from other public sources.
Information about the European Union's support for regions policy is available at www.ec.europa.eu/regional_policy/index_en.htm
For ERDF Press enquiries please contact: Richard Holmes, ERDF Communications Manager, Yorkshire Forward on 01709 766485 or 07870 5259