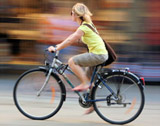 New research supported by CTC - the UK's national cyclists' organisation shows that motorists give cyclists less room when they are riding in a cycle lane.
Using a bicycle with instruments that measure the distance of passing vehicles Ciaran Meyers from the University of Leeds Institute for Transport Studies undertook the research on roads with and without cycle lanes. Ciaran said: "The analysis shows that significantly wider passing distances are adopted by motorists on a 9.5 metre wide carriageway without a 1.45 metre cycle lane with posted speed limits of 40mph and 50mph."
The results reveal when there is a cycle lane motorists drive within the confines of their own marked lane with less recognition of the need to provide a safe and comfortable passing distance to those using the cycle lane. The same finding was not found on a carriageway with a 30mph speed limit, but that location has more side road junctions and there is likely to be greater amount of variability in road positioning amongst motor vehicles.
John Parkin, of the University of Bolton, who was also involved in the study said: "In the presence of a cycle lane, a driver is likely to drive between the cycle lane line and the centre line in a position which is appropriate for the visible highway horizontal geometry ahead of the driver. A cyclist within a cycle lane does not seem to cause a driver to adopt a different position in his or her lane. This has important implications for the width of cycle lanes and implies that their width should never be compromised."
CTC's Policy Coordinator Chris Peck said: "Cycle lanes have a part to play in improving road conditions for cyclists, but this research has raised concerns that they are not always the best solution and may lead to a deterioration in comfort for some cyclists."
For more information, interviews or photographs contact CTC's Press Office on 0844 736 8453 or 07786 320713.
For further information:
Please contact the University of Leeds Press Office on +44 (0)113 343 4031 or email pressoffice@leeds.ac.uk
Notes to editors
The 2008 Research Assessment Exercise showed the University of Leeds to be the UK's eighth biggest research powerhouse. The University is one of the largest higher education institutions in the UK and a member of the Russell Group of research-intensive universities. The University's vision is to secure a place among the world's top 50 by 2015. www.leeds.ac.uk
From assessing pollution at airports to designing the cars of tomorrow, the breadth of work covered by its five research groups makes the Institute for Transport Studies an acknowledged world leader, and the largest department of its kind in Europe. Its research covers all aspects of transport including road use, the economic and environmental impact of travel, safety, policy - and forecasting future demand. Its expertise informs both Government policy and localised planning, where University research is applied to real-life situations.
CTC - the UK's national cyclists' organisation, with 70,000 members and affiliates in 250 clubs across the UK, is the oldest and largest cycling body in the UK, established in 1878. We provide a comprehensive range of services, advice, events, and protection for our members and work to promote cycling by raising public and political awareness of its health, social and environmental benefits. For more information see http://www.ctc.org.uk/
A research grant from CTC supported the work.