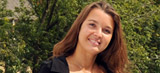 Olga Kubassova, CEO of University of Leeds spin-out company Image Analysis, has accepted a prestigious invitation to be part of the inaugural class of NYC Venture Fellows.
NYC Venture Fellows is a selective, annual programme for fast rising, high-potential entrepreneurs from New York City and around the world. Image Analysis is a university spin-out company founded in 2007 which develops software to help interpret MRI data in clinical practice and research.
The invitation, sent on behalf of New York City Mayor Michael Bloomberg, recognises entrepreneurs of extraordinary achievement and commitment to serving society, with the potential to expand their activities globally.
NYC Venture Fellows will provide Olga with unique opportunities to meet distinguished New Yorkers from the private and public sectors, as well as peers from around the world. The benefits of participation in the programme are expected to include: one-on-one mentorship from leading NYC and global executives; access to public-private industry events with NYC's leading CEOs; and participation in a week-long programme of events in December 2010.
Olga was selected for the award because of her work at Image Analysis, which develops software platforms for the analysis of MRI (Magnetic Resonance Imaging), X-ray and dynamic MRI (DCE-MRI) data. The company's products automate the process of reviewing MRI scans to avoid lengthy and time-consuming manual reviews by medical staff, and are in use in hospitals and clinical departments across Europe.
Olga has ambitious plans to expand on its success. She said: "I'm delighted to accept this award, which will allow Image Analysis to build its presence in New York, with benefits for the company at home and abroad.
"A year ago, I was on my own. We now have three full-time employees with more coming on board. Next year, we are looking to get a really strong sales and operational management team in place, and then expanding our research and development."
The USA operates a comprehensive national breast screening program which produces some 13,000 MRI scans a year, which Olga recognises as a major opportunity for Image Analysis. She said: "Our products could not only save time and money, but most importantly lives, in a hugely pressurised environment, by allowing doctors to focus on the scans that demand the most attention."
Olga was nominated for the award by Linda Pollard OBE, Pro-Chancellor of the University of Leeds, and Prof Richard Williams OBE, the University's Pro-Vice Chancellor for International Partnerships.
Linda Pollard said: "We recognised from the outset that Olga would be a strong candidate for this award, not only because of her achievements to date, but because of her remarkable self-belief and determination. Medical technologies is a ferociously competitive industry sector, but Olga has demonstrated the resilience and know-how to continue to grow her enterprise in the toughest economic circumstances. She will be a great ambassador not just for the university, but for the UK."
Image Analysis also offers a comprehensive range of consultancy and data services to clinicians, researchers, medical physicists, pharmaceutical companies and manufacturers of MRI Scanners.
Professor Williams said: "Image Analysis Ltd has already made a significant difference in the monitoring of treatment for patients, but this is really just the beginning. Olga has risen to the challenges of leading a fledgling business through a series of challenges, and is now ready to explore new products and markets. This award is deserved recognition for the Olga and her team."
NYC Venture Fellows are selected following a highly competitive nomination process, headed by a distinguished selection committee, which included Lawrence Lenihan, CEO of FirstMark Capital; Emily Rafferty, President of the Metropolitan Museum of Art and Sir Martin Sorrell, CEO of WPP Group.
For further information:
Please contact the University of Leeds Press Office on +44 (0)113 343 4031 or email pressoffice@leeds.ac.uk
Visit New York City Venture Fellows at http://www.nycventurefellows.org/
Image Analysis at http://www.image-analysis.org/
Notes to editors
The 2008 Research Assessment Exercise showed the University of Leeds to be the UK's eighth biggest research powerhouse. The University is one of the largest higher education institutions in the UK and a member of the Russell Group of research-intensive universities. The University's vision is to secure a place among the world's top 50 by 2015. http://www.leeds.ac.uk/