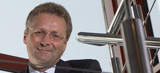 Staff, alumni and a longstanding supporter of the University of Leeds are recognised in the New Year's Honours list.
Deputy Vice-Chancellor Professor John Fisher receives a CBE and Head of Catering and Conferencing, Beverley Kenny, has been awarded an MBE. Marjorie Ziff, a longstanding friend of the University, receives an MBE. Five Leeds graduates are honoured, NASA astronaut Piers Sellers receives an OBE, veteran rugby commentator Ray French and former Chief Superintendent of Yorkshire Police Tom Moran will receive MBEs. Chief Executive of Chorley and Wyre Borough Councils Donna Hall and Wayne McGregor, Choreographer-in-Residence at the Royal Ballet will receive CBEs.
John Fisher, Professor of Mechanical Engineering, said he was delighted to have been made a CBE for his services to engineering. John has been at Leeds for 23 years and jointly heads the Institute for Mechanical and Biological Engineering (iMBE) with Professor Eileen Ingham. He said the award was as much for colleagues as it was for himself.
"This is recognition of many years of work in mechanical engineering at Leeds by a large group of people," he said.
Beverley Kenny manages the 200 staff who feed thousands of students and staff each day through the campus cafes and Refectory. They also help run academic and corporate conferences - and have even weddings - on campus.
Dr Sellers graduated with a PhD in biometereology in 1981 before joining astronaut corps. He was selected by NASA as an astronaut in 1996 and became only the third Briton to go into space when he joined the Atlantis Shuttle mission. He blasted into space again in 2006 and May 2010. He has returned to the Leeds campus to share stories of his space missions and was made an honorary graduate of Leeds in 2007. He receives an OBE for his services to science. "It is a tremendous honour, and I'm really glad that the whole business of spaceflight has been recognised in the UK," he told BBC News.
Marjorie Ziff receives an MBE for services to the community. An honorary graduate of Leeds, Marjorie and her late husband Arnold have been longstanding supporters of the University of Leeds and many other local organisations.
Ray French (General Studies 1961), the former England prop and veteran commentator known as the "Voice of Rugby League", receives an MBE for his services to the sport. In his playing days, Ray became one of the few forwards to have been capped for England in rugby union and Great Britain in rugby league. He combined playing with being a schoolteacher.
Tom Moran (Social Policy and Administration 1981), a former Chief Superintendant of West Yorkshire Police, receives an MBE for services to the police. He is now Professional Standards Co-ordinator at the Police Superintendants' Association of England and Wales.
Donna Hall (English 1985), the Chief Executive of Chorley and Wyre Borough Councils in Lancashire, has been awarded a CBE for services to local government. Born in Bolton, she previously worked at Blackburn with Darwen Borough Council, where she was Deputy Chief Executive from 1996-2006.
Wayne McGregor (Dance, Bretton Hall, 1991) receives a CBE for his services to dance, a field in which he is a world leader. He is Choreographer-in-Residence at the Royal Ballet, and his own dance company, Random Dance, has an international reputation for cutting edge performance.
For further information:
Please contact the University of Leeds Press Office on +44 (0)113 343 4031 or email pressoffice@leeds.ac.uk