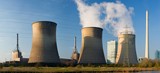 An innovative new £50 million research centre will be meeting the global challenge of climate change by harnessing the expertise and research power of Yorkshire universities, including Leeds.
The Centre for Low Carbon Futures (CLCF) is the first to bring together world-leading research expertise based within Yorkshire and Humberside to help build a competitive, sustainable and carbon efficient regional economy, while providing climate change solutions of national and international significance.
A joint initiative between the Yorkshire Universities and the regional development agency, Yorkshire Forward, the Centre will be led by the universities of Hull, Leeds, Sheffield and York and draw on the research strengths of all the region's higher education institutions.
Adopting a multidisciplinary and cross-university approach across the sciences, social sciences and engineering, the Centre will improve our understanding of the impact and costs of climate change and identify ways in which organisations and communities can adapt to meet these challenges.
The Centre will also develop innovative technologies and methodologies for carbon reduction in partnership with regional business and industry, helping the region to meet its own emissions reduction targets and to exploit the opportunities available as world economies change to a low carbon model.
The Centre has already identified its first four pilot research projects, covering the regional economics of climate change, low carbon supply chains, biorenewables and carbon capture technology.
Interim Director, Tony Hardy, said:
"The Centre will provide the knowledge base to generate workable solutions for businesses and communities, promoting the uptake of innovations and creating change in the real world. Its work will protect those most vulnerable to the changes that climate change will bring to us all."
Brian Cantor, Vice-Chancellor of the University of York and Chair of the Centre's Interim Board, said:
"The Centre for Low Carbon Futures will involve researchers of the highest calibre from many academic disciplines and from across the many universities and research institutes in Yorkshire working together in an atmosphere of intellectual rigour and mutual support. The Centre will create a visionary research and training environment of international quality to meet the challenging energy and environmental questions facing society."
Professor Ed Gallagher was appointed as the Independent Chair of the CLCF Board from 1st September. Formerly the Divisional Chief Executive of Amersham International, Chief Executive of the National Rivers Authority and then the Environment Agency, Ed Gallagher now Chairs the Renewable Fuels Agency and is the author of the influential Gallagher Report on Biofuels.
From January 2010 the Centre's Director will be Jon Price who, since 2007, has been Managing Director of Climate Strategies, hosted at Cambridge University's Centre for Energy Studies - a not-for-profit organisation which provides a bridge between international climate change research and its application at international policy level. Prior to this, Jon held a number of board and senior management roles, predominantly in the financial services and technology sectors and, more recently within the voluntary carbon market, advising corporate organisations on carbon strategy.
Commenting on his appointment to CLCF, Jon Price said:
"Joining CLCF at this time represents a hugely exciting opportunity; The United Nations' meetings to be held in Copenhagen in December will be a major event for Climate Change policy, hopefully resulting in progress on multilateral agreements. With world attention on the outcome of these talks we will have great opportunities to put CLCF at the forefront of practical measures to reduce carbon - going beyond policy and helping to deliver legally binding emissions reductions on a regional, national and international level -through the practical applications of products derived from new low carbon technologies. The Centre will provide a unique conduit for the region's academic and business communities to collaborate and increase their joint understanding of practical applications of clean technologies."
Tom Riordan, Chief Executive of Yorkshire Forward, adds:
"The Centre for Low Carbon Futures will put our region at the forefront of low carbon technologies. It will allow Yorkshire and Humber's businesses to address low carbon challenges and access cutting edge solutions which will help them exploit the opportunities arising from climate change. In turn this will help build a competitive, sustainable and carbon efficient regional economy."
For further information:
Please contact the University of Leeds Press Office on +44 (0)113 343 4031 or email pressoffice@leeds.ac.uk
Notes to editors:
Context:
According to the 2006 Stern Review - a report commissioned by the British government on the economics of climate change - markets for low carbon technologies could be worth at least $500bn by 2050. But the costs and risks of climate change will be equivalent to losing at least 5% of global GDP each year, now and forever.
Funding
The Centre for Low Carbon Futures is funded from a variety of sources, with significant pump priming funds from Yorkshire Forward. The business plan for the Centre sets out a budget of £50m for five years. Yorkshire
Forward has committed up to £17m, of which £6m is now being drawn down to finance initial research projects and the core costs of the Centre. The remaining £33m will be sought from external funding and a rolling programme of bids is underway.
Recruitment of Chair and Director:
The Centre for Low Carbon Futures is a company set up and limited by guarantee. A function of that is that it will have a company Board, chaired by the newly appointed executive independent Chair, Professor Ed Gallagher from 1st September 2009. A permanent Director, Jon Price, has been appointed with effect from January 2010; Tony Hardy is the Interim Director, charged with setting up the Centre.
CLCF's Initial Research Projects:
i. Towards a Low Carbon, Climate Resilient Economy
The Stern Review considered the costs and benefits of climate change on an international scale. This pilot project will assess the impacts of climate change and low carbon policies on the region's economy and on organisations within it.
ii. Balanced Green Supply Chain System
This pilot project will map the supply chain, revealing how material flows through it and, identifying carbon 'hot spots'; by understanding where these are, supply chains can be remodelled to reduce carbon emissions.
iii. Developing Biorenewable and Biorefining Capacity
Research is currently being done to improve the use of plant materials as a feedstock to create fuels - or 'biofuels' - as an alternative to fossil fuels. This pilot project will look at the further development of plants to minimize waste and to improve the extraction of useful chemicals through the biorefining of the feedstock.
iv. Optimisation of Oxygen Linked with Exhaust Gas Recirculation
As more efficient ways of combustion are developed that use more oxygen, a consequence will be higher temperatures and heat exchange that existing technologies can't cope with. This project will look for potential solutions to those challenges. In addition the increased carbon content of the exhaust gases means it can be captured more easily. This pilot project will also develop more efficient systems for the capture and removal of carbon from exhausts.