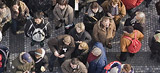 Financial meltdown, climate crisis and failed politics - the key social issues of the first decade of the 21st century have created an increasingly fragmented society, both in the UK and abroad.
"Quite simply, our economic and political system isn't working," said Dr Mark Davis, Director of the University's Bauman Institute in the School of Sociology and Social Policy. Mark was the only UK University member of the Council of Europe expert group which has created the new European "Charter for Shared Social Responsibilities", a document which runs alongside the EU's new Europe 2020 Strategy and argues for a more socially cohesive Europe.
The Charter is being launched by José Manuel Barroso, President of the European Commission, at a conference in Brussels attended by politicians, lobbyists and pressure groups, from February 28. "It tackles some really major issues,"
Mark explained. "It's about how we re-engage people with politics and involve them in the decisions which affect their lives. "What are the shared social responsibilities of Governments, businesses and citizens in creating a fair, stable and sustainable Europe? How can we restore a sense of cohesion to societies at a time of economic difficulty? How do people become active citizens rather than just the consumers of goods and services?"
The Charter offers both diagnosis and vision. One of its key recommendations is that politicians should enable more people to be involved in and responsible for the issues which affect them. "What people are most worried about are the social consequences of big decisions.
It's not just about bankers' bonuses, it's also about their access to a GP or how raising fuel duty will hit their bus routes. "People affected by these decisions must be consulted - that's what a democracy should look like. It might take longer, but Governments often make hasty, short-term decisions and they're usually bad ones." Mark is philosophical about how the Charter might be received in the Euro-sceptic UK.
"Our response to European politics is typically that it just interferes in our lives, but this is something with the potential to be beneficial to all. In short, this is not so much about creating the Big Society as ensuring we have a Good Society."
For more information and details on the Brussels conference, visit: www.coe.int/t/dg3/conf_EN.asp?
For more information about the Bauman Institute, visit: http://www.sociology.leeds.ac.uk/bauman
For further information:
Please contact the University of Leeds Press Office on +44 (0)113 343 4031 or email pressoffice@leeds.ac.uk