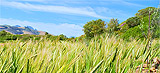 The Government's Chief Scientific Adviser Sir John Beddington is to give a public lecture on food security at the University this month.
Sir John will present the findings of the Government's Foresight Global Food and Farming Futures Report and discuss how to feed a future population of 9 billion people healthily and sustainably in the face of climate change.
The lecture is being organised by Africa College, an international research partnership working to find sustainable answers to hunger and malnutrition in Africa.
The lecture is open to staff and students and takes place from 1pm to 2pm on 10th March 2011 in the Clothworkers Concert Hall.
For further information:
Please contact the University of Leeds Press Office on +44 (0)113 343 4031 or email pressoffice@leeds.ac.uk