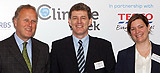 British invention uses beads to clean clothes, saving water, energy, carbon and waste.
The first Climate Week Awards has named Xeros as the 'Best Technological Breakthrough' for the unique way that Xeros cleans clothes by using hardly any water. Harnessing over 30 years of research by the University of Leeds, Xeros technology has the potential to transform the way the commercial laundry market cleans clothes by offering an environmentally-friendly alternative to conventional aqueous washing. Xeros cuts water and energy use, and reduces carbon and effluent emissions.
Xeros uses special polymer beads rather than the usual large amounts of fresh water to clean clothes. Instead a small amount of water is added to loosen clothing stains and activate the beads. Used within a special washing machine also invented by Xeros, the garments are tumbled gently in the beads. They suck dirt off the clothes by absorbing it into their molecular structure.
The Xeros beads work for hundreds of washes. At the end of their cleaning life, they will be re-used for other applications.
For example, by the automotive industry. Independent analysis confirms that Xeros cleans as well as normal aqueous washers, and environmental consultancy URS found its carbon footprint to be 20% lower. Xeros has raised funds at every stage of its development, most recently £4million in October 2010.
The company will achieve full commercialisation later this year with a system designed specifically for the commercial laundry industry. Bill Westwater, CEO of Xeros, said: "Xeros is delighted to win this award for Best Technological Breakthrough.
It is a testament to Dr Steve Jenkins, our Chief Technology Officer at Xeros and his team, who have developed a unique cleaning technology that significantly reduces the environmental impact of cleaning clothes. The global laundry industry is worth over £60 billion per annum, and this award gives Xeros a tremendous boost as we continue down this exciting path towards commercialisation this year."
Backed by the Prime Minster David Cameron, Xeros received the prestigious 'Best Technological Breakthrough' award from Lord Marland, Parliamentary Under Secretary of State for the Department of Energy and Climate Change. The Awards are the centrepiece of Climate Week (21-27 March), which recognises the very best of what Britain has to offer in combating climate change.
The Climate Week Awards were judged by an internationally-recognised panel of experts, including Lord Nicholas Stern (author of the Stern Report); former Irish President Mary Robinson; eco-adventurer David de Rothschild; Ian McEwan, best-selling author of 'Solar'; and Tim Smit, founder of the Eden project.
Climate Week CEO Kevin Steele said: "The Climate Week Awards celebrate the very best that Britain has to offer in combating climate change. They offer a powerful illustration of what can be achieved to help create a more sustainable, low-carbon society. It's through shining examples like these that we can help inspire others to raise their game."
Notes to editors
Located at the Advanced Manufacturing Park (AMP) in Sheffield, south Yorkshire, Xeros is a relatively new company that has commercialised a globally relevant technology which originally came out of pioneering work by Professor Stephen Burkinshaw at the Textile Design department of the University of Leeds.
Xeros has raised over £5 million in funding from private investment and government R&D grants to commercialise the technology. Xeros was named 2nd in the top 50 "2010 Best Inventions" by TIME magazine; listed in WWF's survey of global "Green Game-Changers"; and selected as one of only 19 best fast-growing "Clean & Cool" companies to go on a government sponsored mission to Silicon Valley (February, 2010).
The AMP is the UK's premier advanced manufacturing technology park, providing world-class advanced manufacturing technology solutions to ensure advantage for industry.
About the Climate Week Awards
The Climate Week Awards celebrate the UK's most innovative, effective, and ambitious organisations, communities and individuals and their outstanding efforts to combat climate change. Awards were made in the following categories:
Best Technological Breakthrough - in association with Tesco
Climate Week Hero - in association with Tesco
Most Inspirational Leader - in association with Tesco
Most Inspirational Young Person - in association with Tesco
Best Community Initiative - in association with Aviva
Best Educational Initiative - in association with EDF Energy
Best Local Initiative - in association with Kelloggs
Best Initiative by a Small or Medium-Sized Business - in association with RBS
Best New Product - in association with Tesco
Best Initiative by a Governmental or Statutory Body - in association with Tesco
Best Initiative by a Public or Uniformed Service - in association with Tesco
Best Campaign - in association with Tesco
Best Event - in association with Tesco
Best Artistic Response - in association with Tesco
For further information about the Climate Week Awards, visit: www.climateweek.com/awards
About Climate Week
Climate Week is a new national occasion backed by everyone from the Prime Minister to Sir Paul McCartney to showcase the many practical ways in which we can help combat climate change. For more information: http://www.climateweek.com/
For further information:
Please contact the University of Leeds Press Office on +44 (0)113 343 4031 or email pressoffice@leeds.ac.uk