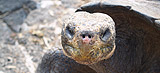 Animal and bird species found only on a single island should still be common within that island.
This is the finding of a new model developed by researchers from the University of Leeds and Imperial College London. The model could apply both to actual islands and isolated areas of habitat on the mainland that are home to unique species, such as the table top mountains of South America.
The natural history of islands is littered with examples of unusual species found only in one place, such as the Hawaiian Goose, Galápagos Tortoises and Dodo that may once have been common on their islands, but since human contact have become rare or even extinct.
Now this new modelling approach shows that in general, most unique island species should be common on their island. If they are not, then the researchers believe human activity is most likely to be the cause. "Models of island ecology have tended to focus on the total number of different species that you might expect to find on an island, rather than on how common or rare those species are and whether or not they are unique to the island," says Dr James Rosindell, of Leeds' Faculty of Biological Sciences.
"Our model is able to predict the way that new species develop in isolation from the mainland as well as how many individuals of each species we could expect to see in their natural habitat. However, there is little data on population sizes and this highlights a real gap in knowledge that we need to fill."
To develop the model, the researchers collated data on bird species found across 35 islands and archipelagos. Modern genetics makes it possible to identify which species have diverged to create new species - so the team were able to test their model against actual data.
The model and data both show that whilst islands close to the mainland have no unique species, more distant islands tend to have unique species that are closely related to mainland species. Only the islands and archipelagos furthest from the mainland are expected to contain large numbers of unique species closely related to each other, such as Darwin's finches on the Galápagos and the Hawaiian honeycreepers.
"This model is still in its early stages of development, but we hope it will help to prompt more study of population sizes on islands," says Dr Albert Phillimore, from Imperial's Department of Life Sciences. "Comparing the predictions of different models to actual data can help us to identify where other factors are coming into play - such as additional ecological processes and human intervention. In the future, we plan to look at how the model could also help make predictions relevant to conservation strategy."
The work has been funded through an EPSRC research fellowship and an Imperial Junior Research Fellowship.
Dr James Rosindell and Dr Albert Phillimore are available for interview.
For further information:
Please contact the University of Leeds Press Office on +44 (0)113 343 4031 or email pressoffice@leeds.ac.uk
Notes to editors:
'A unified model of island biogeography sheds light on the zone of radiation' is published in Ecology Letters: (ELE 1617) on 13 April 2011. A copy of the paper is available on request.
The Faculty of Biological Sciences at the University of Leeds is one of the largest in the UK, with over 150 academic staff and over 400 postdoctoral fellows and postgraduate students. The Faculty is ranked 4th in the UK (Nature Journal, 457 (2009) doi :10.1038/457013a) based on results of the 2008 Research Assessment Exercise (RAE). The RAE feedback noted that "virtually all outputs were assessed as being recognized internationally, with many (60%) being internationally excellent or world-leading" in quality. The Faculty's research grant portfolio totals some £60M and funders include charities, research councils, the European Union and industry. http://www.fbs.leeds.ac.uk/
The 2008 Research Assessment Exercise showed the University of Leeds to be the UK's eighth biggest research powerhouse. The University is one of the largest higher education institutions in the UK and a member of the Russell Group of research-intensive universities. The University's vision is to secure a place among the world's top 50 by 2015. http://www.leeds.ac.uk/
About Imperial College London
Consistently rated amongst the world's best universities, Imperial College London is a science-based institution with a reputation for excellence in teaching and research that attracts 14,000 students and 6,000 staff of the highest international quality. Innovative research at the College explores the interface between science, medicine, engineering and business, delivering practical solutions that improve quality of life and the environment - underpinned by a dynamic enterprise culture. Since its foundation in 1907, Imperial's contributions to society have included the discovery of penicillin, the development of holography and the foundations of fibre optics . This commitment to the application of research for the benefit of a all continues today, with current focuses including interdisciplinary collaborations to improve global health, tackle climate change, develop sustainable sources of energy and address security challenges. In 2007, Imperial College London and Imperial College Healthcare NHS Trust formed the UK's first Academic Health Science Centre. This unique partnership aims to improve the quality of life of patients and populations by taking new discoveries and translating them into new therapies as quickly as possible.

The Engineering and Physical Sciences Research Council (EPSRC) is the UK's main agency for funding research in engineering and physical sciences. EPSRC invests around £800m a year in research and postgraduate training, to help the nation handle the next generation of technological change.
The areas covered range from information technology to structural engineering, and mathematics to materials science. This research forms the basis for future economic development in the UK and improvements for everyone's health, lifestyle and culture. EPSRC works alongside other Research Councils with responsibility for other areas of research. The Research Councils work collectively on issues of common concern via research Councils UK.