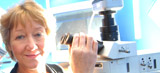 Professor Eileen Ingham has been recognised for her achievements in scientific research at a prestigious awards ceremony held at the Royal Academy of Engineering in London.
Created and led by the UKRC, the Women of Outstanding Achievement Awards are now in their sixth year and recognise the diverse contributions of women as leaders, innovators and role models.
Professor Eileen Ingham, academic founder of University spinout company Tissue Regenix, has received the top award for Innovation and Entrepreneurship in Academia and Research, sponsored by the Science and Technology Facilities Council (STFC).
Professor Ingham is the inventor of a novel tissue engineering technology for treatment of cardiovascular and muscular skeletal disease. Her leadership within the Institute of Medical and Biological Engineering at the University has established a world leading centre of excellence in medical engineering with over 100 academic researchers, and with current external grant income in excess of £50m.
The judging panel, which included Lord Willis of Knaresborough and Miles Templeman, Director General of the Institute of Directors, was impressed by Professor Ingham's influence as an inspirational role model for future generations of women in SET.
She said: "I'm surprised and delighted to have been presented with this award. It's a privilege to be able to spend my working life in activities that I truly enjoy - and then be recognised for my work. During my career I have been supported by a number of entrepreneurial mentors and have worked with many outstanding scientists, engineers and clinicians. I hope that my work can be an inspiration to others too."
Professor Ingham and the six other winners have been captured in a series of creative and dramatic portraits which will be displayed in prominent locations across the UK including academic institutions and professional body headquarters.
Lord Willis, Chair of the judging panel, is delighted to be able to celebrate female excellence in SET. He said: "The range and quality of nominations this year was exceptional, demonstrating the breadth of women's contribution and impact across all areas of science, engineering and technology. I congratulate Professor Ingham as an exemplar in innovation and entrepreneurship."
The UKRC is the UK's lead organisation for advancing women in SET. Annette Williams, Director of the UKRC said: "We received record entries this year and the nominations were hugely impressive. These women, and the growing collection of powerful portraits now being housed in our major institutions, play an important role in increasing the visibility of inspirational female role models in SET."
Neil Geddes, STFC Director and Diversity Champion, said: "It is the combination of innovation and entrepreneurship that gets a good idea out of the research lab and into the market place. STFC has had some notable success in doing this, and we're delighted to encourage others through our sponsorship of the 2011 UKRC Women of Outstanding Achievement Awards."
For more information on the Women of Outstanding Achievement Awards visit http://www.theukrc.org/
For further information:
Please contact the University of Leeds Press Office on +44 (0)113 343 4031 or email pressoffice@leeds.ac.uk
The UKRC
The UKRC aims to significantly improve the participation and position of women in science, engineering and technology occupations, to benefit the future productivity of the UK and the lifetime earnings and career aspirations of women.
The UKRC is the UK's leading centre providing information and advisory services to businesses and organisations in these sectors, and supporting women entering, returning and progressing in these fields.