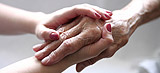 New estimates show the care provided by friends and family members to ill, frail or disabled relatives is now worth a staggering £119 billion every year.
The figure has risen by over a third since the 2007 estimate, which stood at £87 billion

Carers' contribution now far outstrips the total cost of the NHS (£98.8 billion).

The figure amounts to £2.3 billion per week and £326 million per day.
The figures, calculated by researchers from the University of Leeds and charity Carers UK, show that there are around 6.4 million people in the UK providing care for ill or disabled loved ones that would otherwise cost the state £18 an hour, meaning that each carer saves on average £18,473 a year.
Professor Sue Yeandle from the University of Leeds, who co-authored the report, said: "These figures indicate how important carers' unpaid contributions are to the wellbeing of our society. We know most carers want to continue care but many are doing so without the support they need and are under enormous pressure, often affecting their health and their family budget.
As our society ages and more people live for longer with illness or disability, we must address the important question of how to provide and fund the support carers need."
Carers UK argues that society must do more to support growing numbers of carers. Chief Executive Imelda Redmond CBE said: "Our society and public services could not function without the massive contribution made by over 6 million carers in the UK. This contribution is something we can be proud of as a country, and demonstrates how strong our families and communities are.
With an ageing population, caring is becoming a fact of life for every family. Yet, whilst families are meeting this challenge, many are struggling with little or no help, or facing cuts to the care services and benefits they rely on. Unless we urgently rethink how our society supports carers, we will see increasing numbers pushed to breaking point - forced out of work and into poverty, ill-health and isolation.
These new figures send a clear message: carers contribute so much and they deserve better in return."
Carers can calculate their individual contribution using Carers UK's new 'Care Calculator', as well as accessing advice and information on all aspects of caring, at http://www.carersuk.org/
For further information:
Please contact the University of Leeds Press Office on +44 (0)113 343 4031 or email pressoffice@leeds.ac.uk
Notes to Editors:
A full report Valuing Carers, written by Carers UK and Dr Lisa Buckner, University of Leeds gives national, regional and local estimates of carers' contribution, and can be downloaded from www.carersuk.org/professionals/resources/research-library (from 12th May - advance copies available on request).
The report estimates the increase in carer numbers since the 2001 Census (an increase from 5.8 million in 2001 to 6.4 million in 2011) and recalculates the value of the care they provide using the latest unit cost of providing care, £18 an hour.
Carers can calculate the amount they individually save the save per year by entering the number of hours they care per day into a 'Care Calculator' at www.carersuk.org (from 12th May).
University of Leeds, School of Sociology and Social Policy, has a broad and active research programme that informs and enlightens academic teaching at undergraduate and postgraduate level. Hosting a number of substantial and vibrant research centres, the school received the second highest position in the country in terms of 'world-leading' research (4*) in the 2008 Research Assessment Exercise.

The Hardest Hit campaign is being run by the Disability Benefits Consortium of over 40 organisations who represent disabled and older people, those with long-term conditions and their families and carers. Further information can be found at http://www.hardesthit.org.uk/
Carers UK is a charity set up to support the millions of people who care for an elderly relative, a sick friend or a disabled family member.