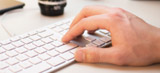 The internet is still out of reach for the majority of the 1.5 million people in the UK with intellectual disabilities (ID) according to a new report from the University of Leeds.
The Inclusive New Media Design (INMD) project, which was publicly funded by the Arts and Humanities Research Council and the Engineering and Physical Sciences Research Council as part of the joint initiative 'Designing for the 21st Century', revealed that while technologies such as screenreaders help those with sensory disabilities get online, people with intellectual difficulties remain largely excluded from the Web.
People with ID often have impaired levels of literacy and numeracy and may find it difficult to process text on a webpage. Sites can be made more accessible for these individuals by using speech and picture alternatives or simpler navigation, but these adaptations are rarely undertaken in website design.
Dr Helen Kennedy, a Lecturer in New Media at the University of Leeds and Director of INMD, said that while web designers and developers and are keen to include disabled users, they sometimes face resistance from clients.
She said: "People with intellectual disabilities are already at the margins of society and this study shows how difficult it is to include them in the internet. But, it is a myth that web designers themselves hold the power to enable or disable web users. Clients, line managers, copywriters and policymakers also play a role and they do not always share web designers' commitment to accessibility."
The report recommends that web designers engage personally with intellectually disabled users to help them understand the challenges they face. "The diversity and complexity of ID can only really be grasped through contact with people with intellectual disabilities themselves," added Dr Kennedy.
"By engaging with developers and designers, ID users can become co-producers in the website development process rather than just testers of an end product."
The report also recommends that an online resource about ID accessibility should be developed, including tips, how-to videos and examples of good practice, to create a community of web professionals committed to ID accessibility.
Dr Kennedy is now seeking funding to develop a new Flickr-style social networking application which would be entirely image-based, designed to help people with ID to build relationships with each other.
For further information:
Please contact the University of Leeds Press Office on +44 (0)113 343 4031 or email pressoffice@leeds.ac.uk
A copy of the report Inclusive New Media Design: Including people with intellectual disabilities in the web, is available to journalists on request.
Notes to editors
Inclusive New Media Design (INMD

) was funded by the Arts and Humanities Research Council and Engineering and Physical Sciences Research Council joint initiative Designing for the 21

st

Century. It ran from May 2007 to August 2009. The research included nine ID accessibility training workshops with 28 web designers and developers. People with ID also participated in four of the workshops as user testers.

University of Leeds:

The 2008 Research Assessment Exercise showed the University of Leeds to be the UK's eighth biggest research powerhouse. The University is one of the largest higher education institutions in the UK and a member of the Russell Group of research-intensive universities. The University's vision is to secure a place among the world's top 50 by 2015.

Intellectual disability is a mental impairment which is present from birth or acquired early in life, which results in a low IQ. But this is a very simple definition; better definitions centre on an individual's adaptive behaviour, life skills and social and physical abilities.

Arts & Humanities Research Council (AHRC):

Each year the AHRC provides approximately £102 million from the Government to support research and postgraduate study in the arts and humanities, from languages and law, archaeology and English literature to design and creative and performing arts. In any one year, the AHRC makes approximately 700 research awards and around 1,350 postgraduate awards. Awards are made after a rigorous peer review process, to ensure that only applications of the highest quality are funded. The quality and range of research supported by this investment of public funds not only provides social and cultural benefits but also contributes to the economic success of the UK.

Engineering and Physical Sciences Research Council (EPSRC)

: EPSRC is the main UK government agency for funding research and training in engineering and the physical sciences, investing more than £850 million a year in a broad range of subjects - from mathematics to materials science, and from information technology to structural engineering.

Designing for the 21

st

Century

: In the UK the Engineering & Physical Sciences Research Council (EPSRC) and the Arts & Humanities Research Council (AHRC) both have remits, which include design. As a result of this mutual interest the two research councils created the Designing for the 21st Century Initiative as a vehicle for supporting design research over a five-year period from 2005-2009. The programme has supported the development of design practice so that it can play its part in tackling the exigencies of 21st Century endeavour, new knowledge and understanding.