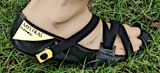 A young company that designs and produces innovative running shoes has won the 2011 University of Leeds business plan competition.
Final year Management student, Nick Cockerill, set up his business - Mystras Running - to capitalise on the huge growth in 'barefoot running'. His ultra-lightweight Mystras Running Sandal replicates the feeling and biomechanical functionality of running barefoot, whilst protecting the wearer from injury from sharp stones or glass.
The competition, organised by SPARK, the University's business start-up service offers a £2,000 prize. Nick is using the prize money to progress a new high-performance version of his shoe designed especially for trial running which he hopes to launch to market shortly.
As a keen barefoot runner himself, Nick was sure that he could design a better shoe than the limited choice available on the market. His shoes, weighing just 150 grams apiece, are made from calf leather, backed with a breathable material also used in ballet shoes. The foot bed is made from microporous foam with a thin rubber sole.
To confirm the quality and performance of his product, Nick wore a pair to run the Edinburgh marathon earlier this month, beating his personal best time and finishing in the top 15 per cent of all the competitors.
Nick said: "The Mystras Running brand has a growing fan base, and sales through the website are on the rise. Now my exams are over, my main focus is to ramp up talks with the specialist sports shops who are interested in stocking my products. I'm really grateful for the support and guidance of the SPARK team; they've been there for me from the start."
The award was presented at a gala dinner on Thurs 26 May, attended by more than 100 guests, including undergraduates, staff, University alumni and members of the business community across the Leeds City Region.
The keynote speaker was Nick Howard, founder and director of creative production company Limehouse, and a former winner of the SPARK business plan competition. Just three years on from his win, Limehouse employs ten staff, has a global client base and a BAFTA nomination to its name.
He says "Winning this competition was a fantastic springboard for my company. The SPARK team is such a great resource for entrepreneurial students and graduates; they're so knowledgeable and can put you in touch with experts to help at any stage of your venture. For me, SPARK's support was instrumental in winning one of only 25 places on the prestigious Goldman Sachs Business Growth programme , which gave me access to senior partners as mentors. I have no doubt that winning this competition will offer Nick and Mystras Running major opportunities to really develop his business."
Second prize, a cheque for £1250, was awarded to graduates Gareth Noble, (Mechanical Engineering BEng, 2009) and Beth Jones (Broadcast Journalism BA, 2008). Their business, Yellow Berry, offers an innovative grow box to make growing fruits, vegetables and herbs accessible to those people with limited living space - such as city centre flats with balconies, housing with only small patio areas or elderly residents unable to tend to a large outside vegetable garden.
Third prize, a cheque for £750, was awarded to Keir Hutton-Ferris, a second year BA Managing Performance student. Keir's business, GraphArtic, sells graphic art made by students from the top art schools in the country through an online gallery, pop-up gallery events, and through an art-share scheme that puts student art in leisure facilities around West Yorkshire.
Kairen Skelley, SPARK business adviser at the University's Careers Centre, commented:
"The evening was a wonderful celebration of business start-ups. It is lovely to see the existing businesses growing; they're a brilliant example for the new businesses to follow."
For further information:
Please contact the University of Leeds Press Office on +44 (0)113 343 4031 or email pressoffice@leeds.ac.uk