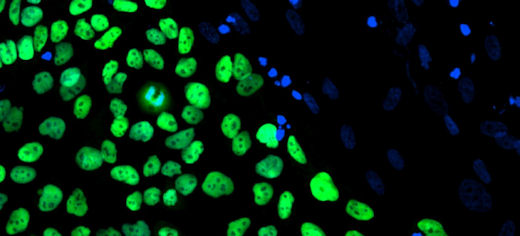 University of Leeds spin out company, Tissue Regenix Group Plc has secured a new investment of £25 million.
The company was formed in 2006 to take an innovative range of 'biological scaffold' products (now known as dCELL® technologies) to market.
The dCELL® process removes the cells from natural tissues to leave a biological scaffold which can be regenerated by the patient's own cells. Because a patient's own cells can populate the new biological scaffolds, they are accepted by the immune system and can be repaired like normal tissue. There is a significant advantage from this technique because of the longevity of the transplant compared to other previously developed techniques.
The new investment will allow the Group to further develop and commercialise a range of applications of the dCELL® technology, including: a vascular patch; a porcine heart valve product; a meniscus product (to repair cartilage in the knee); and wound care and skin repair products.
John Samuel, Executive Chairman of Tissue Regenix, said:
"We are delighted to announce this material funding round which will transform our balance sheet and gives us the firepower to leverage our innovative technology platform. As well as allowing the Company to develop a range of products simultaneously following the established medical device regulatory route, this commitment from both existing and new investors is a significant endorsement of the commercial potential of our broad product pipeline. The Directors continue to believe that our tissue products' ability to retain biomechanical and regenerative capabilities on implantation provides us with an attractive platform from which we aim to become a significant global player in regenerative medicine."
The company resulted from research at the Institute of Medical and Biological Engineering (IMBE) at Leeds, which was named in November as the winner of the Queen's Anniversary Prize, which is the country's highest accolade for an academic institution. The Institute is the UK's leading bioengineering research institution and has pioneered research into joint replacements, spinal interventions and tissue engineering and has created new products and therapies which are in use by surgeons in clinics and hospitals around the world. The Institute is led by Tissue Regenix founders, Professors John Fisher and Eileen Ingham, who will receive the award in February 2012.
For further information:
Please contact the University of Leeds Press Office on +44 (0)113 343 4031 or email pressoffice@leeds.ac.uk
Tissue Regenix Group Plc
Antony Odell, Managing Director
Ian Jefferson, Chief Financial Officer
Tel: +44 (0)190 456 7609
Notes to editors:
The University of Leeds is one of the largest higher education institutions in the UK and a member of the Russell Group of research-intensive universities. The 2008 Research Assessment Exercise showed Leeds to be the UK's eighth biggest research powerhouse. Leeds was shortlisted for the University of the Year award in the Sunday Times University Guide 2011 and the National Student Survey (NSS) 2011 found that 86% of final year students are satisfied with their experience at Leeds - up from 82% last year. http://www.leeds.ac.uk/
The Institute of Medical and Biological Engineering (iMBE) brings together colleagues from the faculties of medicine and health, biological sciences and engineering. Their purpose is to deliver pioneering multidisciplinary research and education in the fields of medical devices and regenerative medicine, underpinned by innovation and translation of novel therapies, focusing on the treatment of orthopaedic and cardiovascular diseases and disabilities, to advance patient healthcare and quality of life. http://www.imbe.leeds.ac.uk/
Tissue Regenix Group Plc is a medical technology company which uses a proprietary technology platform to make replacement body parts from biological (animal) materials.
· This proprietary platform, known as the dCELL® technology platform, works by removing all cells (decellularisation) from the animal tissue allowing it to be used to replace worn out or diseased body parts
· The dCELL® process can be used to make 20-30 different products. The three priority markets for the application of the technology are: Vascular; Cardiac; and Orthopaedics
· The market for human therapeutic products employing tissue engineering is one of the most rapidly growing sectors within the medical products market
· Once regulatory approvals have been obtained, Tissue Regenix will look to license dCELL® Technology to third parties and enter co-marketing and/or distribution agreements.