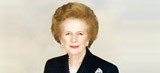 Love or loathe her, no-one could deny Margaret Thatcher transformed Britain.
But a new book by two British business academics offers a controversial new take on her 11-year reign as Prime Minister, overturning myths about the emergence of Thatcherism - and the basis for its enduring legacy.
Globalisation and Varieties of Capitalism: New Labour, Economic Policy and the Abject State by Dr Dan Coffey of the University of Leeds and Dr Carole Thornley of Keele University argues that Thatcherism was not a planned political philosophy, but rather an opportunistic movement arising from a series of coincidences between industrial unrest and deindustrialisation in Britain in the 1970s.
The authors also cast doubt on a central tenet of Thatcher's legacy, since adopted by New Labour, that her decision to tackle the trade unions, privatise national industries and introduce free market principles - which left uncompetitive companies to go to the wall - effectively 'rescued' Britain in the 1980s.
Dr Coffey says: "Britain was known as the 'sick man of Europe' in the 1970s because of the weakness of the economy. A standard account of Thatcherism is that she tackled this through privatisation and letting companies go bust, and in doing so laid the foundations for the period of high growth that followed later.
"But this assumption - which was later accepted by the Blair and Brown governments and forms the basis of some of New Labour's economic policies - is wrong. In our book, we argue that the problem in the 1970s was not so much that all companies in Britain were uncompetitive, but that many competed in a particular way - exporting jobs and factories abroad following our entry to the EEC in 1973.
"The British economy came undone because Britain's style of capitalism was so different to state-backed European models. Governments in countries such as France and Germany exerted pressure on firms to maintain a substantial domestic presence in their own country, and to an extent protected them.
"Thatcher seized on the loss of industrial strength to Europe as exposing the need to tackle the unions and privatise industries, but in fact this was opportunistic and only came about because of the differences in the economic models of European nations. The founding premise of Thatcherism was a misdiagnosis."
The authors believe that their book has implications for New Labour and Britain's future. They argue that while attempting to be active in a number of positive areas, by conceding to Thatcherism on this point New Labour effectively abrogated many of its economic responsibilities, using 'globalization' as an excuse.
Coffey says: "New Labour has distanced itself from some parts of Thatcherism, but has adopted other elements. In 2007, Gordon Brown posed outside Downing Street with Margaret Thatcher when she returned to Downing Street.
"The financial sectors were liberated under Thatcher, a process continued under the later governments of Blair and Brown, and manufacturing has not recovered. It's possible to see that this has unbalanced the economy, and that this stems from economic and political trajectories unleashed as an unanticipated consequence of the clash of forms of capitalism within Europe.
"Contrary to spin, today's economic and financial crisis is not some 'world event' that came out of the blue - before the crisis broke Britain's debt-fuelled economy was manifestly unstable, while the crisis itself has Anglo-American features.
"In our book we look at some of the impossible circles New Labour has tried to square - from the controversy over PFI to gender pay gaps. To understand why good intentions are not enough a fundamental rethink of how our problems started, and where we are today, is needed. This is what we attempt to provide - in the tougher world that is now emerging, an abrogating state is not an option."
Globalisation and Varieties of Capitalism: New Labour, Economic Policy and the Abject State by Dr Dan Coffey of the University of Leeds and Dr Carole Thornley of Keele University is published by Palgrave. The book is informed by new research as well as previous Economic and Social Research Council (ESRC)-funded and UNISON-funded research.
For further information:
Please contact the University of Leeds Press Office on +44 (0)113 343 4031 or email pressoffice@leeds.ac.uk
Notes to editors
The 2008 Research Assessment Exercise showed the University of Leeds to be the UK's eighth biggest research powerhouse. The University is one of the largest higher education institutions in the UK and a member of the Russell Group of research-intensive universities. The University's vision is to secure a place among the world's top 50 by 2015. http://www.leeds.ac.uk/
Leeds University Business School is among the leading UK university-based business schools with a high reputation for research and a history of successful partnerships with industry and commerce at local, national and international levels.