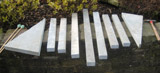 The world-famous percussionist Dame Evelyn Glennie is taking part in a new project which introduces children to geology by constructing and playing 'musical rocks'.
The University of Leeds has been awarded nearly £200,000 by Natural England, through DEFRA's Aggregates Levy Sustainability Fund, to create a 21st century percussion instrument using rocks found throughout Cumbria.
Although most rocks simply give a dull thud when struck, some rocks 'ring' - including a number of those found in Cumbria. With the assistance of music and multimedia technologies, this project will use real-time digital signal processing to bring out the qualities of the rock sound beyond the range of natural hearing - making an innovative percussion instrument.
The rocks will be donated by quarries in Cumbria, reflecting the range of geological time and the different types of rock represented in the region. Local schoolchildren will make quarry visits and collect rocks for instruments of their own.
The project co-ordinator, Bobbie Millar, at the University of Leeds said: "This project is a great example of bringing together different disciplines to create something that is unusual, exciting and accessible. For some people geology can seem very academic, but this project is designed to make it fun and understandable by blending it with music and technology."
The project is being hosted by Brantwood, the former home of philosopher John Ruskin, and will reflect Ruskin's approach to geology, nature and music.
As well as constructing instruments from musical rocks and stones, the project will link multimedia, computer vision, computer music and digital media, to create interactive explanations of the geology and musical properties of the selected rocks.
Dame Evelyn Glennie said: "This project links closely to many new and conceptual ideas. It seeks to unlock the potential of the fabric of our landscape to teach us not only about the past but also the future. It is right and proper that the natural curiosity of children is embraced and they will be able to embed their findings of both music and geology into the history books of tomorrow.
"My personal hope is that many others will follow in our footsteps and add to this initial development of an interesting instrument thus unlocking the mysteries of these ancient rocks and landscape".
The musical rock instrument will be available to be played by visitors of all ages after its launch in August 2010. Brantwood will host the installation which will include a large rock instrument, interactive electronics and related interpretation materials in the Linton Room, a small stone cottage adjacent to the main house with views over Coniston Water.
Inmates of Haverigg Prison at Millom in Cumbria will also help with the construction of the frames for the rock instruments. Haverigg Prison has an established relationship with the Ruskin Foundation through a number of collaborative projects.
The project is being led by Bruce Yardley, Professor in the School of Earth and Environment at the University of Leeds. Geologists with extensive knowledge of the Lake District are also taking part, as well as Dr Kia Ng director of the Leeds University Interdisciplinary Centre for Scientific Research in Music (ICSRiM), instrument specialists and the staff at Brantwood.
Dame Evelyn Glennie will demonstrate the completed instrument at its launch on 19 August 2010, which is open to the public.
For further information:
Please contact the University of Leeds Press Office on +44 (0)113 343 4031 or email pressoffice@leeds.ac.uk
Notes to Editors:
1. The University of Leeds
The 2008 Research Assessment Exercise showed the University of Leeds to be the UK's eighth biggest research powerhouse. The University is one of the largest higher education institutions in the UK and a member of the Russell Group of research-intensive universities. The University's vision is to secure a place among the world's top 50 by 2015. http://www.leeds.ac.uk/
2. The School of Earth and Environment is established as one of the leading centres of international excellence across the Earth and Environmental Sciences. In the UK RAE 2008, we ranked second nationally in terms of research power. It focuses on a multidisciplinary approach to understanding our environment, studying the Earth from its core to its atmosphere and examining the social and economic dimensions of sustainability. www.see.leeds.ac.uk/index.htm
3. Natural England
The project is funded by Natural England through Defra's Aggregate Levy Sustainability Fund (ALSF) 2009-2011. Natural England's ALSF Grant Scheme aims to support projects that provide benefits from aggregate extraction to local communities and reduce impacts on the natural environment.
4. Brantwood
Brantwood is the former home of artist, writer and social theorist, John Ruskin. Open to the public all year, it receives around 30,000 visitors per annum. Brantwood is one of the most beautifully situated houses in England. The house is filled with many of John Ruskin's former possessions, paintings and treasures; it is also a vibrant centre for the arts and environment, hosting an array of historic and contemporary exhibitions, theatrical and musical performances, courses and study opportunities. There is a 250 acre estate with historic mountain and woodland gardens. Brantwood is owned and operated by an independent charitable trust.
5. Interdisciplinary Centre for Scientific Research in Music (ICSRiM).
Based at the University of Leeds, ICSRiM provides a venue for research and development in the areas of creative human-computer interactions, the analysis, synthesis and encoding of musical sound and applied music psychology. www.leeds.ac.uk/icsrim
6. Dame Evelyn Glennie
Dame Evelyn Glennie is the first person in musical history to successfully create and sustain a full-time career as a solo percussionist. As one of the most eclectic and innovative musicians on the scene today she is constantly redefining the goals and expectations of percussion, and creating performances of such vitality that they almost constitute a new type of performance.
In 1993 Evelyn was awarded the OBE (Officer of the British Empire) for her services to music and education. This was extended in 2007 to 'Dame Commander', and to date has received over 80 international awards.