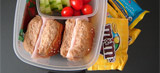 The turkey twizzler is long gone from school dinner plates - but children on packed lunches are still eating junk.
British children eat 5.5 billion packed lunches each year but research from the University of Leeds shows that only one per cent of their lunchboxes meet the nutritional standards which have been set for their classmates on school meals.
About half of all children in England take a packed lunch to school. In the first study of its kind, the Leeds research team, commissioned by the Food Standards Agency, found that 82 per cent of their lunchboxes contained foods high in saturated fat, salt and sugar - items such as crisps, sweets and biscuits. Only one in five packed lunches contained any vegetables or salad and about half included an item of fruit - yet in the overwhelming majority of cases, even these fell well below the standards demanded of school dinners.
School meal standards were introduced in 2006 due to growing evidence linking poor health in adults with obesity or poor diet in childhood. They limit the amount of foods high in salt, sugars and fats which can be served and stipulate that school meals must provide a third of the daily requirement of every nutrient for health. And though schools watchdog Ofsted says schools must have a policy on packed lunches, there is no legislative imperative for them to comply with the same nutritional standards that are applied in the canteen.
The research was led by Charlotte Evans of the Leeds Institute of Genetics, Health and Therapeutics who said: "The lack of equivalent food standards for packed lunches gives cause for concern that they will continue to lag behind the nutritional quality of school meals."
Even without legislation, there is plenty that schools, parents and manufacturers can do to improve the situation, as Ms Evans explained: "Our research has shown that some small steps in the right direction would make a big difference. Even if schools had a policy to provide water for children eating packed lunches, this would significantly reduce their sugar intake from sweetened drinks.
"It is important that schools support health promotion programmes and strategies are in place to help parents meet nutritional standards, by encouraging them to include healthy foods such as protein-rich sandwiches and fruit and vegetables. Simply concentrating on restricting the junk content of lunch boxes can be counter-productive - children at schools where crisps are restricted, for example, end up with lunch boxes containing more confectionery.
Ms Evans added: "We also need food manufacturers to offer better choices than the traditional high salt, high sugar products that busy families rely on to fill the school lunchbox on a daily basis."
Professor Janet Cade, head of the Nutritional Epidemiology Group at Leeds added: "While we absolutely understand that many children prefer to take packed lunches to school, it is clear that they are not getting the same benefit from their midday meal as their classmates on school dinners. The poor quality of these meals could have serious implications for levels of childhood obesity and its long-term consequences."
Further Information
For further information or requests to interview Dr Charlotte Evans, please contact the University of Leeds Press Office on (+44) 113 3434031, or pressoffice@leeds.ac.uk
The paper A cross sectional survey of children's packed lunches in the UK: food and nutrient based results by CEL Evans, DC Greenwood, JD Thomas and JE Cade is published in the Journal of Epidemiology and Community Health. A copy of the paper is available on request.
Notes to editors
The 2008 Research Assessment Exercise showed the University of Leeds to be the UK's eighth biggest research powerhouse. The University is one of the largest higher education institutions in the UK and a member of the Russell Group of research-intensive universities. The University's vision is to secure a place among the world's top 50 by 2015. http://www.leeds.ac.uk/
With more than 6,000 students, 1,500 staff and annual research income topping £35m, the Faculty of Medicine and Health at Leeds is bigger than many entire universities. Leeds has one of the largest medical and bioscience research bases in the UK, and is an acknowledged world leader in cancer, cardiovascular, psychiatric, genetic and musculoskeletal research. Treatments developed in Leeds are transforming the lives of people around the world living with conditions such as HIV, TB, diabetes and malaria. www.leeds.ac.uk/info/20029/faculties/191/faculty_of_medicine_and_health
The Leeds Institute of Genetics, Health and Therapeutics (LIGHT) is the home of internationally competitive translational research into common chronic disorders such as cardiovascular diseases, diabetes, cancer and neurodegenerative disorders, and supports specialised undergraduate and postgraduate studies, with the overall aim of improving patient care and public health. www.leeds.ac.uk/medhealth/light/
The Nutritional Epidemiology Group within the Centre for Epidemiology and Biostatistics is a research intensive group which strives both independently and collaboratively to create, advance and disseminate nutrition research to make an impact on population health. www.leeds.ac.uk/medhealth/light/research/DoE/nutritional/index.html
The Food Standards Agency is an independent Government department set up by an Act of Parliament in 2000 to protect the public's health and consumer interests in relation to food. http://www.food.gov.uk/