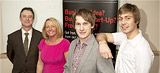 A business offering innovative and sustainable product design consultancy - Plus Minus Design - has been named winner of the University of Leeds' annual business plan competition.
Plus Minus Design is the brainchild of three Leeds graduates, Adam Robinson, Henry James and Tom Eales, and has been in business since September 2009. The company works with businesses that are looking to improve the environmental and social impact of their products and services, while providing truly innovative and creative design solutions. It aims to couple these improved sustainability credentials with business incentives such as highly marketable eco features, cost savings from reduced waste and inefficiency and increased market share.
"We believe that sustainability doesn't need to be a financial burden for companies," says Adam Robinson. "It's an opportunity to increase market share, sales and profits. What we offer is a design service that not only creates new products, but also takes the whole production process into account."
The business plan competition is judged by a panel of individuals drawn from the professional services community. Jonathan Craig, Lending Manager at Partnership Investment Finance has been on the judging panel for the competition for four years now and says he is impressed by the quality of business ideas and applications to the competition this year.
He says: "All the submissions we considered deserve credit for their business plans and presentations. The panel considered Plus Minus Design to be a promising early stage business with great potential for growth. As an overall package they represent a viable and sustainable business, coupled with a team of innovative, environmentally focussed product designers who can already demonstrate profitability".
The business plan competition is organised by SPARK, the University of Leeds' business start-up service which is run by the University's Careers Centre. The winners of the competition receive a prize of £2000, whilst second and third prize winners receive £1250 and £750 respectively.
As this year's winners, Plus Minus Design will automatically be entered for the Regional Enterprise Awards, the winners of which will be announced at Venturefest Yorkshire on 10 February. Second prize went to SmoothPath, an innovative e-platform which is aimed at helping visitors to the tourist boards' websites plan trips by generating a customised trip itinerary based on their personal preferences. SmoothPath expects the first deployment of the platform to take place within the year.
Third place was awarded to Magpie Comms, a graphic design and communications partnership. Kairen Skelley, University of Leeds Business Advisor and one of the organisers of the competition says: "We've seen a year on year improvement in the standard of business ideas, the professionalism and the knowledge of those entering the competition," she says. "The entrepreneurial spirit amongst our students and graduates continues to grow and this is demonstrated by each of this year's three winning businesses.
For further information:
Please contact the University of Leeds Press Office on +44 (0)113 343 4031 or email pressoffice@leeds.ac.uk
Adam Robinson, Plus Minus Design, Tel: 0113 200 6891 or 077354 62203 or email adam@plusminusdesign.co.uk http://www.plusminusdesign.co.uk/
Kairen Skelley, Business Advisor, University of Leeds Careers Centre, Tel: 0113 343 8355 or email k.skelley@leeds.ac.uk