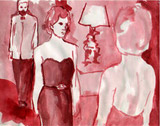 Recent drawings by 17 contemporary artists will be featured in a forthcoming exhibition at the Stanley and Audrey Burton Gallery, University of Leeds.
Selected works will be exhibited by artists from the LAND2 group and the Drawing Research Group (University of Lincoln) that explore the relationship between the act of drawing and the experience of place. The exhibition, 'All Over the Place: Drawing Place, Drawing Space,' runs from 22 June - 23 October 2010. The Gallery is open Mon-Sat, 10-5pm, and admission is free.
The exhibition celebrates the artists' ongoing research into the experience of drawing. Participating artist Anne-Marie Creamer explains: "I see drawing as a spatial practice, touching quite literally on an intertextual labyrinth of references."
Using a range of media, the artists investigate how the act of drawing influences how we understand and engage with spaces, as well as how places can influence drawing practice itself. LAND2 is a national research network of artists, lecturers and students with an interest in contemporary landscape and place-oriented art practice; the exhibition is a result of its collaboration with the Drawing Research Group.
The participating artists are Catherine Baker, Iain Biggs, Jayne Bingham, Anne-Marie Creamer, Paul Edwards, Paul Fieldsend-Danks, Deborah Gardner, Polly Gould, Mick McGraw, John Plowman, Gill Robertson, Doris Rohr, Dan Shipsides, Emma Stibbon, Andrea Thoma, Judith Tucker, and David Walker-Barker.
All Over the Place is a title borrowed from Lucy Lippard's The Lure of the Local: Senses of Place in a Multi-centred Society, in which she describes place as a temporal, spatial, personal and political map of a person's life - tracking its past, present and future. In their drawings, the artists explore places as locations layered with human histories, identities and memories.
As artist David Walker-Barker commented: "Drawing is one way of touching a landscape and whatever that landscape enfolds. Responses are strongest where humanity and the landscape have formed an alliance, coming together in exacting and striking relationships."
Artist-lecturers Dr Iain Biggs from the University of the West of England, and Judith Tucker from the University of Leeds, established the LAND2 group in 2002. This network of artists, art lecturers and students share a core of common interests around how art practices can engage with the possibilities and problems of contemporary landscape and place.
Jayne Bingham, from Norwich University College of the Arts, and Judith Tucker co-convened the current show, a version of which was exhibited at the University of the West of England, Bristol in 2008. Tucker hopes to show how considering place inflects her dramatic monochrome pieces, as well as how that practice might contribute to an affective understanding of a specific place. Her intention is that drawings "become places between, interstitial areas, uncanny spaces between past and present: arguably holding the potential for a postmemorial affect".
Paul Edwards agrees, he sees "drawing as a means of making a connection in a specific way with the physical world. It is an act of contemplation; drawing takes time and contains time." The exhibition will be accompanied by a programme of events, including an academic symposium and a family fun day.
For further information:
Please contact the University of Leeds Press Office on +44 (0)113 343 4031 or email pressoffice@leeds.ac.uk