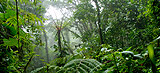 An attack by the Sunday Times on the veracity of climate change research has been withdrawn, with an apology, following a complaint by rainforest expert Dr Simon Lewis from the University of Leeds.
In January, the Sunday Times claimed that UN's Intergovernmental Panel on Climate Change (IPCC) had issued 'unsubstantiated' and 'bogus' threats about the vulnerability of the Amazonian rainforest to droughts caused by climate change.
The article was published despite Dr Lewis sending the Sunday Times several scientific papers showing the susceptibility of Amazon forests to possible future changes in climate to drier conditions. It was re-posted some 20,000 times across the internet and featured in a Wall Street Journal editorial.
In a published statement on 20 June, the Sunday Times apologised to Dr Lewis, stating that the article "did not give a fair and accurate account of his views," and acknowledged there was no scientific mistake in the report.
Dr Lewis said, "I welcome the Sunday Times' apology for failing to accurately report my views and their retraction of the Amazon story. As several experts told them - their story was baseless."
The correction comes after Dr Lewis sent an official complaint to the Press Complaints Commission earlier this year to seek an apology and the withdrawal of the article.
He said: "I filed a complaint to protect my reputation as a scientist - I had published papers showing the Amazon's vulnerability - and because people were being misled about climate change risks to the Amazon. The public should expect accurate science reporting, and hopefully my complaint can assist with that."
"What I find shocking about this whole episode is that an article read out and agreed with me was then switched at the last minute to one that fitted with the Times' editorial line that the IPCC report contained a number of serious mistakes, when the scientific facts showed that it didn't.
"The public's understanding of science relies on scientists having frank discussions with journalists, who then responsibly report what was said. If reporting is misleading then many scientists will disengage, which will mean that the public get more opinion and less careful scientific assessments.
"This is extremely dangerous when we face serious environmental problems, like climate change, which require widespread scientific understanding to enable wise political responses to be formulated."
For further information:
Please contact the University of Leeds Press Office on +44 (0)113 343 4031 or email pressoffice@leeds.ac.uk