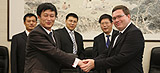 Sinochem, China's largest trading company and first multinational conglomerate, has signed a formal agreement to collaborate in research and innovation with the University of Leeds.
The agreement builds on a successful long standing relationship between Sinochem and the university's colour science and chemistry departments, which will now be formally developed to include other strategic areas.
The agreement follows a successful visit to Leeds by a Sinochem delegation in May, when discussions led by then Chair of Yorkshire Forward Terry Hodgkinson, highlighted the potential to expand the relationship. Sinochem has recently acquired the London-based Emerald Energy, and is keen to explore further opportunities in the UK.
Sinochem has regularly featured amongst the Fortune Global 500 companies, ranking 170th on the list in 2009 with a turnover in excess of £30 billion. Along with its oil trading, refining, marketing and logistics businesses, Sinochem started making its first overseas oil and gas investments in 2002, completing several major overseas acquisitions in the energy sector, primarily in Latin America, Africa and the Middle East. Sinochem also has major interests in chemical manufacture and supply logistics, petroleum engineering and supply, agricultural products and seeds, as well as in corporate finance and capital, leisure and real estate.
The University's Pro Vice Chancellor for Enterprise and Knowledge Transfer, Professor Richard Williams signed the agreement in Beijing last week with Sinochem Deputy President Li (pictured):
"This agreement shows our serious intent to develop a platform for research and innovation between the two organisations. Many of Sinochem's core business interests align with Leeds world leading research capabilities in chemicals processing, petroleum engineering, agriculture, low carbon process technologies and energy, and the company is keen to explore further opportunities in Yorkshire and the UK. The University of Leeds also has the longest record of teaching Asian language and business in the UK and this was another factor behind Sinochem's desire to prioritise this key relationship."
Deputy President Li agreed, saying:
"We treasure this long-term cooperation with University of Leeds which has the potential for significant cooperation across a number of fields. Leeds is a world renowned university and with increased joint working we believe greater value can be realized for both parties."
Long Lin, Professor of Colour Science at Leeds said:
"Colour Science share key R&D interests with Sinochem in the areas of colorants and fine chemicals for a host of applications, ranging from cancer treatment, through to textile dyeing to cosmetics. As such, we already have a strong foundation upon which a broader collaboration can be built."
For further information:
Please contact the University of Leeds Press Office on +44 (0)113 343 4031 or email pressoffice@leeds.ac.uk
Notes to editors:
The 2008 Research Assessment Exercise showed the University of Leeds to be the UK's eighth biggest research powerhouse. The University is one of the largest higher education institutions in the UK and a member of the Russell Group of research-intensive universities. The University's vision is to secure a place among the world's top 50 by 2015. http://www.leeds.ac.uk/