Arts & Culture news archive
Leeds students have raised over £10,000 for the earthquake and Tsunami relief fund with a series of events.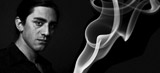 A University of Leeds academic has marked Lesbian, Gay, Bisexual and Trans (LGBT) history month with the translation into Spanish of his groundbreaking history of male homosexuality in Spain.
Cao Yu - the most significant figure in the development of modern drama in China - is the subject of new exhibition.
A new repository of online historical documents has been launched as part of the 'Soldiers and Soldiering in Britain, 1750-1815' project.
Former Poet Laureate Sir Andrew Motion and pianist Ian Buckle will appear at the University of Leeds to give a special performance celebrating the poems of Philip Larkin.