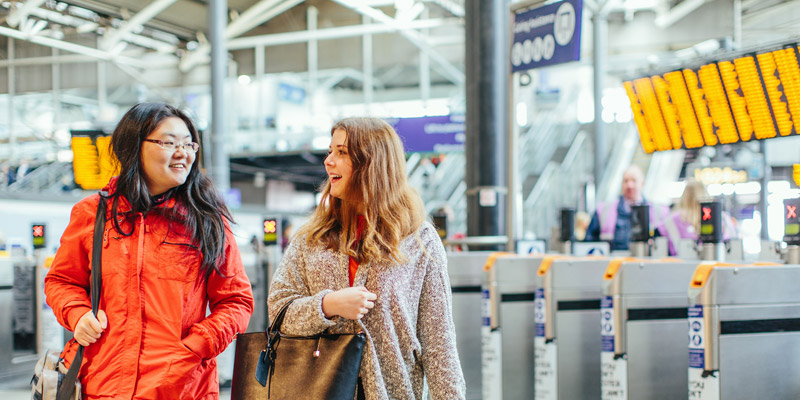 Updated 23 April 2021 at 14.43pm
When you should arrive
The University is currently subject to UK Government restrictions announced on 30 December, and England is facing national restrictions.
For taught students, these restrictions mean that teaching is online, except for a small number of subjects on practical or practice-based courses who have been contacted by their school. Therefore for students on other programmes and new postgraduate researchers the advice is not to return/travel to the University until further notice, unless there are exceptional circumstances.
We recommend that students do not make travel arrangements until further guidance has been issued by the UK government and the University. We will support you to engage with your studies online, until students return to campus and it is possible for you to travel.
For the latest information about returning to campus, please see our coronavirus website.
If you have already made travel plans and cannot change them or it is expensive to do so, you can travel to Leeds as planned, but please make sure you let us know when you plan to arrive. Complete our international arrival form (in the section below "Book your arrival and self-isolation support") so that we can support your travel and arrival. For more information, including how to travel safely, please see our travel information page and the FAQs on the coronavirus website.
Plan your journey and arrival
Our travel information page gives you information to help you plan your journey, and steps you must take before you leave home.
Make sure you also read our page on what to bring with you to Leeds as part of your preparation.
Accommodation for your first night and beyond
Make sure you have accommodation booked for your first night and for at least 10 days where you can self-isolate on arrival. If you don't have permanent accommodation confirmed yet, contact our Accommodation Office who will assist you to find accommodation.
You can contact the Accommodation Office by emailing accom@leeds.ac.uk or phone: +44 (0)113 343 7777
If you need to arrive before your accommodation contract starts, ask your accommodation provider if you can arrange early arrival. Book?temporary accommodation in advance if you need to arrive before you can move into your permanent accommodation. Our Accommodation Office may also be able to assist with temporary accommodation.
Many accommodation site offices are not open in the evening, so if you plan to arrive in the evening, contact your accommodation in advance to check how to collect your keys when you arrive. It is also essential to carry the University's Security Office contact details in case of an emergency.
If you are prevented from moving into your University-run accommodation because of government travel restrictions, then we will amend your contract dates so that you will only have to pay for the new agreed occupancy period. If you need to change your University accommodation arrangements, you will be able to do this with the Accommodation Office. Please visit the Accommodation website for more information.
Your arrival date and your visa
If you have a visa, it is important to check the 'valid from' date on your visa vignette. You must not attempt to enter the UK before this date, or if the date has expired. If the 'valid to' date has expired because you have delayed travel to the UK, please see our advice about remote study and your student visa.
Our remote study page also includes information about arrival dates for students who wish to apply for the Graduate Route to work in the UK after studying.
Travel, testing and self-isolation requirements
Since Monday 15 February there are new requirements for people arriving in England:
You must have proof of a negative coronavirus test to travel to England.
You must also get two coronavirus tests after you arrive in England - you'll need to book a travel test package before you travel and enter the booking reference on your passenger locator form.
Lateral flow tests provided on campus by the University cannot be used to meet travel testing requirements. You must book a travel test package through one of the providers listed on the government website. If you are required to quarantine in a hotel, your testing will be included as part of your quarantine hotel package, which you must book through the government booking portal.
You must also self-isolate for 10 days on arrival, either in the place you are staying or in a managed quarantine hotel, depending on where you have travelled from.
You must quarantine for 10 days in a managed quarantine facility if you have visited or passed through a country where travel to the UK is banned, in the last 10 days.
You will be able to enter the UK from a country on the travel ban list if you are a British or Irish National, or you have residence rights in the UK. People with residence rights include holders of an entry visa, which means you can still enter the UK if you have a valid student visa. See information about residence rights in the foreign travel guidance for affected countries. UKCISA has also published useful guidance for students travelling from or through countries where travel is banned.
If you are required to quarantine in a government approved facility you must enter the UK at one of the permitted airports as explained in the government guidance.
Please read all the new requirements carefully and keep checking the travel and self-isolation guidance before and after you arrive as it is changing regularly. You can contact internationalwelcome@leeds.ac.uk if you need advice. You should also check with your travel provider.
You must follow all of the UK government's travel, testing and self-isolation guidance, and the national lockdown rules about social distancing, even if you have received a COVID-19 vaccine abroad.
You can also find information about the UK government's Test to Release scheme, where you may be able to choose to pay for a private COVID-19 test from an approved provider in order to reduce your period of self-isolation after international travel. You cannot use Test to Release if you are travelling from a country on the travel ban list.
We understand that many students are experiencing unexpected costs related to COVID-19. If these costs are causing you financial pressure, you can get advice about sources of hardship funding from Leeds University Union.
Book your arrival and self-isolation support
Transport services
We are running a transport service to the University from Manchester Airport and Leeds Bradford Airport until the end of the 2020-21 academic year. You must book your transport service at least four days in advance of your arrival. If you will be arriving in September 2021, please check this page for updates closer to your time of travel.
Complete the international arrivals form as soon as possible to tell us about your travel plans and book your arrival and self-isolation support. You can update this later if you change your plans.
You can be reassured that we'll support you to self-isolate when you arrive.
You can use the international arrivals form to book a free welcome starter food box and information about local online food shopping.
Check whether your accommodation provides kitchen equipment and bedding, or if you need to buy this. You can order a kitchen and bedding pack, and a toiletries pack from the University, so you have what you need when you first arrive.
Link to Leeds student ambassadors will be available for you to chat to online and hosting online socials to help you settle in and make friends.
Find out more information about self-isolation support while you are in Leeds.
International arrivals support
You can find help with questions about our transport and self-isolation services, ask for any support you need on the day of your arrival, and get help with recovering any lost or delayed luggage.
Contact us (service available 7 days a week)
Address: International Arrivals helpdesk, East Entrance, Marjorie and Arnold Ziff Building, University of Leeds (9am to 5pm, Monday to Saturday) - Please note the helpdesk will be closed from 12.30pm on Thursday 1 April and will reopen on Wednesday 7 April. Phone and email service will remain open every day during this period.
Phone: +44 (0)113 3439599 (8am to 8pm, every day)
Email: internationalwelcome@leeds.ac.uk (8am to 8pm, every day)
Getting started at Leeds
You'll find lots of information online to help you get started, in your International Welcome Guide and International Orientation and from Leeds University Union.
Our Student Information teams will be here to answer your questions online, by phone or in person.
You can also chat online to current students from our Link to Leeds ambassadors team.
Coronavirus (COVID-19) requirements in the UK and on campus
Once you arrive, you must follow all UK government and university coronavirus guidance, even if you have received a COVID-19 vaccine.
After you have finished your self-isolation, you need to take an initial lateral flow test on campus and then take a test two times each week.
You should also continue follow all the latest UK government guidance.
More COVID-19 information and advice is on our coronavirus website. Updates will also be provided to your university email address.