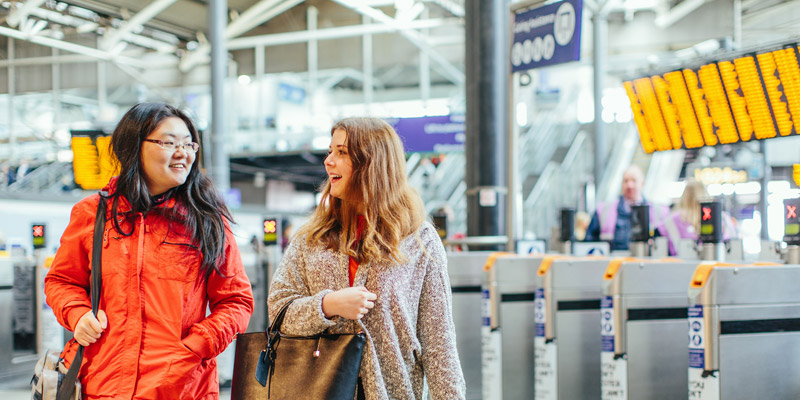 When you should arrive
We understand that in the current situation you may not be able to arrive in Leeds in time for the start of your course and you may need to self-isolate when you arrive. Don't worry, you'll find information and support to help you whenever you arrive. Please keep your school informed about your situation if you will be arriving later.
Check the following before you book your travel:
Information from your school about your induction and programme start dates and any special requirements
Check with your school about any specific requirements for you to be studying on campus by a certain date. If you cannot travel to Leeds at the start, contact your school for advice. If you have a visa, check the "valid from" date on your visa vignette and don't attempt to enter the UK before this date.
When you can move into your accommodation
Make sure you have somewhere to stay on your first night and for 14 days in case you need to self-isolate on arrival. Arrange temporary accommodation in advance if you need to arrive before you can move into your permanent accommodation. If you don't have permanent accommodation confirmed yet, contact our Accommodation Service who will assist you to find accommodation.
Term, teaching and exam dates if you are booking return travel
Check with your school and on our term dates page before you book return travel on a specific date.
Travel, arrival and self isolation support
Plan your journey
Our travel information page gives you information to help you plan your journey.
Make sure you carefully read the UK government rules on who needs to self-isolate on arrival in the UK, and how to self-isolate. Keep checking this guidance before and after you arrive as it is changing very regularly.
Book your arrival and self-isolation support
Visit our international arrivals form as soon as possible to tell us about your travel plans and book your arrival and self-isolation support. Please complete as much of the form as you can now. You can update it later when you confirm your plans.
Arrival services
We are running a transport service to the University from Manchester Airport and Leeds Bradford Airport. You must book your transport service at least four days in advance of your arrival.
Self-isolation support
You can be reassured that we'll support you if you need to self-isolate when you arrive.
Link to Leeds student ambassadors will be available for you to chat to online to help you settle in and make friends.
You can book a free welcome starter food box and information about local online food shopping.
Check whether your accommodation provides kitchen equipment and bedding, or if you need to buy this. You can order a kitchen pack and bedding pack so you have what you need when you first arrive.
What to bring with you
Make sure you read our what to bring page as part of your preparation.
International arrivals support
Initial arrivals support will be available in the Marjorie and Arnold Ziff Building and online from 9am to 8pm:
Getting started at Leeds
You'll find lots of information online to help you get started, in your International Welcome Guide and International Orientation and on the Leeds University Union welcome website.
Our Student Information teams will also be here to answer your questions online, by phone or in person.
You can also chat online to current students from our Link to Leeds ambassadors team.