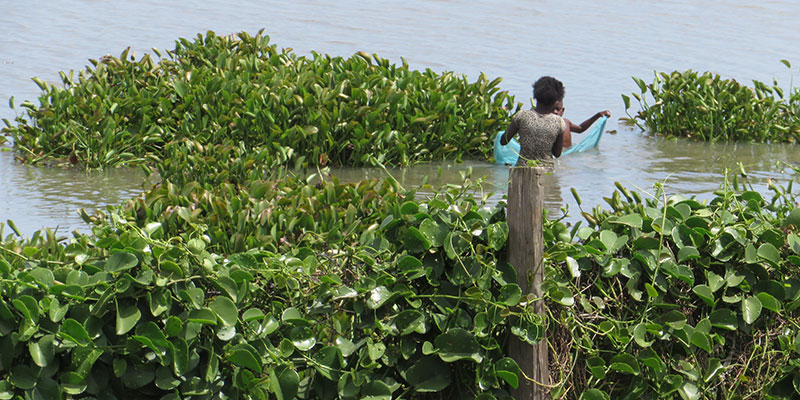 Our focus is on the interdisciplinary grand challenges for water – from local to global. We encompass expertise from across the physical, biological, chemical, social and economic sciences and engineering as well as the arts.
water@leeds has excellent links with industry and government and a track record of collaborative research and development, knowledge transfer and joint innovation. Central to water@leeds is an interdisciplinary approach to understanding and hence solving major water issues.
Key strengths
Established in 2009, water@leeds draws together around 150 academics and 170 PhD students from across the University to deliver excellent, internationally leading water science, technology and policy research. This is evidenced in the most recent Research Excellence Framework (REF 2014) and an independent benchmarking exercise in 2013 by Thomson Reuters.
The diversity of our membership means water@leeds is a focus for delivering interdisciplinary water research and innovation, maximising the effectiveness of water sector research funding.
water@leeds focuses on interdisciplinary challenges to bring researchers together with charities, non-governmental organisations, policy-makers and businesses.
Our collaborative partnerships enable us to develop approaches which are both innovative and practical, resulting in world-leading research - evidenced in REF 2014) that has major impacts on society, the environment and the economy.
Doctoral Research and Training Centre
water@leeds is also supporting the next generation of water experts, through our water@leeds Doctoral Research and Training Centre. It brings together PhD students from across the University of Leeds with a vision to create the world's largest interdisciplinary doctoral centre for water, seeking to recruit 100 students annually.
Our researchers are:
Developing tools for the monitoring of progress towards UN Sustainable Development Goal 6 on safely managed sanitation and re-use of wastewater for improved food security.
Delivering a tool that informs government payments to farmers for measures to reduce erosion and pollution risk in Norway.
Influencing water company investment plans on water quality and developing new, more efficient technologies for water treatment.
Facts and figures

During the 2016/17 academic year our researchers hosted a large international conference (ICFM7), published 428 peer-reviewed articles, 22 book chapters and 111 conference presentations.

The impact of our work has been recognised as 'internationally excellent' in the most recent Research Excellence Framework (REF 2014) exercise.
Our Doctoral Research and Training Centre is growing fast; we currently have around 170 Doctoral students with plans to double this number by 2020.
water@leeds works closely with more than 100 partner organisations in more than 111 countries worldwide.

We were winners in the Water Industry Forum Impact Awards 2015 for UK Water Research, Techniques and Methodologies.
Major projects
FCFA HyCRISTAL: Integrating hydro-climate science into policy decisions for climate-resilient infrastructure and livelihoods in East Africa
HyCRISTAL will develop new understanding of climate change and its impacts in East Africa, working with the region's decision-makers to manage water for a more climate-resilient future.
Yorkshire Integrated Catchment Solutions Programme (iCASP)
iCASP is a research translation programme to deliver benefits worth more than £50M to the regional economy. Projects supported by the programme will be co-created by researchers and regionally active partnership organisations.
The role of Phosphorus in the Resilience and Sustainability of the UK food system
This interdisciplinary project was funded by the UK's Global Food Security Programme. Sustainable management of phosphorus is vital for the resilience and security of the UK food system, and the delivery of ecosystem services such as clean water and biodiversity. This project aims to enhance the resilience and sustainability of the UK food system by developing adaptive strategies that will reduce the vulnerability of UK farming to future phosphorus stocks and optimise the provision of ecosystem services.
Transitions to resilience and sustainability through UK dairy systems and supply chain innovation
A sustainable dairy industry must improve or maintain water, biodiversity and soil quality, meet social expectations, offer farmers a livelihood and provide accessible and affordable dairy products to consumers. This project will combine the latest natural, social, biological and veterinary science with industry expertise from 33 stakeholder partners to devise and test innovations that could increase the resilience and sustainability of dairy farming in a rapidly changing world.
Our work in practice
Drilling into the Khumbu Glacier
Our researchers led the first project to take readings from within the ice of Khumbu Glacier, in the foothills of Mount Everest. For the first time, researchers will be able to make accurate predictions for the glacier's future, impacting on populations which rely on the ice for the water they use in their daily lives.
Slowing the spread of invasive non-native species
Invasive non-native species are any non-native animal or plant that is able to spread, thereby damaging the environment, the economy, our health and the way we live. water@leeds researchers are researching effective, practical biosecurity practices for application in a range of field conditions.
Working with industry to engineer world-changing innovation
water@leeds researchers are working with G2O Water Technologies to bring the company's patented graphene water filter technology closer to market. The aim is to reduce the cost of water treatment, to make clean water more accessible worldwide.
We were attracted to working with water@leeds by [its] multidisciplinary nature, which we felt would be useful in helping us make the transition [...] to [a company] that addresses specific challenges
within the water industry.
water@leeds staff and students are working on a range of other projects across the water cycle, looking at different scales and across different disciplnes. Find out more about the impact of our research.
Key people
Professor Joseph Holden
Director
j.holden@leeds.ac.uk

Professor Martin Tillotson
Director
m.r.tillotson@leeds.ac.uk

Dr Gabriela Lopez Gonzalez
water@leeds Coordinator
G.Lopez-Gonzalez@leeds.ac.uk

Dr Pazit Ziv
DRTC Manager
p.ziv@leeds.ac.uk

If you would like to work, partner or collaborate with us, or want to know more about the research we are involved with, email water@leeds.ac.uk.