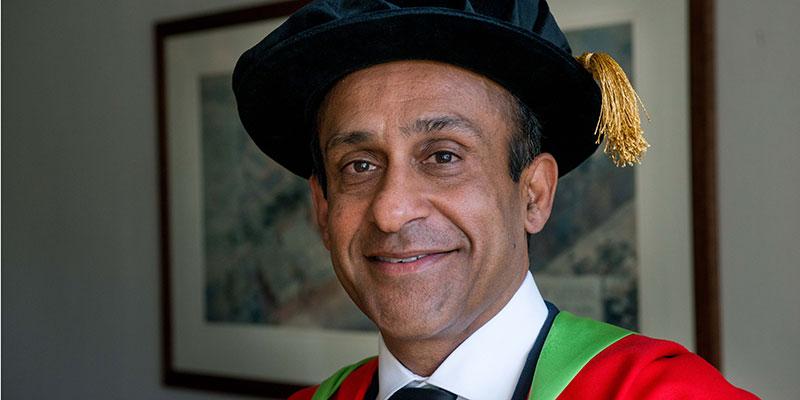 Presentation address by Professor Lisa Roberts
Global society faces many complex challenges today, which include climate change, complex health and wellbeing issues, and access to secure water and food resources. It follows that the future of our planet and the well-being of its people will depend on our ability to adapt food production and farming practices across the globe in ways which are both inclusive and sustainable. Today we are honouring a man who is making – and showing us how to make – that transition.
It was 27 years ago that Peter Dhillon was last in this Great Hall for a degree ceremony. On that occasion he was sitting amongst his fellow graduands awaiting the conferment of his Bachelor of Laws degree. What Peter has achieved since that day in 1992 is truly exceptional.
Farming and family are the foundations of Peter's business and leadership activities. As CEO of the Richberry group, he has grown what began as a part-time venture by his parents, his late father, Rashpal and his mother, Surinder – whom we are delighted to have with us today – into Canada's largest cranberry agribusiness.
But Peter is much more than a successful entrepreneur. His career demonstrates that economic success can actually be strengthened by a commitment to the highest standards of ethical, environmental and workforce protection. As the Chairman of the board of Ocean Spray, the world's premier cranberry cooperative, with annual sales in the region of £1 billion, he has been an inspirational role model for ethical leadership in global business.
His determination to promote fairer business practices in the wake of the 2008 financial crash led to the establishment of the Peter Dhillon Centre for Business Ethics in partnership with his other alma mater, the University of British Columbia. His goal is to encourage the next generation of business leaders to operate in a more holistic and sustainable way, so that they are aware of the dangers of focusing only on the 'bottom line' at the expense of wider ethical issues.
Peter's contribution to delivering economic growth with the highest standards of business practices has been widely recognised. He is currently a director of the Bank of Canada, and plays a major role across the Canadian economy serving on boards in a variety of business sectors. He has recently been inducted into the Canadian Agricultural Hall of Fame, and has also received the United States Ellis Island International medal of honour for global business leadership and philanthropy.
The University takes great pride in its graduates and the impact that they make on the world, and we are honoured to have a truly inspirational global business leader in this Leeds alumnus. Vice-Chancellor, I am delighted to present to you for the degree of Doctor of Laws, honoris causa, Peter Dhillon.