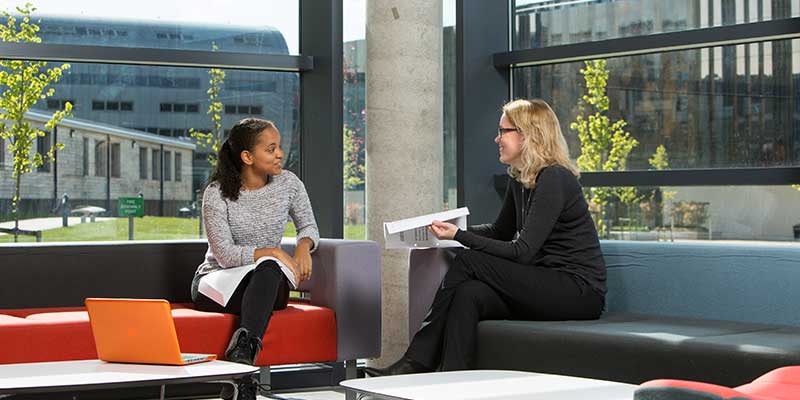 Improve the knowledge and skills of your workforce through higher and degree apprenticeships. You can work with us to shape a course for your employees to address your organisation's needs.
Your apprentice will learn in a research environment and be taught by academics who are specialists in their fields. Our research strengths and teaching excellence are ranked among the best in the UK.
Higher apprenticeships (foundation degrees)
Higher apprenticeships allow you to develop a course with us to improve the skills of your staff.
Apprentices will gain a foundation degree from the University of Leeds – a combined academic and vocational qualification - while continuing to work.
We offer the following higher apprenticeships:
Degree apprenticeships (undergraduate and postgraduate degrees)
Through degree apprenticeships you can work with us to develop a course for your employees. Courses are created to meet the needs of the employer and allow high-achieving apprentices to gain an undergraduate or Masters degree from the University.
Integrating University and workplace-based education and training has benefits for the business and the apprentices. The skills of staff are developed to meet business priorities, and the apprentices benefit from a sponsored university education while earning a salary.
We offer the following degree apprenticeships:
Why take part in the apprenticeship programme?
All of our apprenticeship schemes align with the apprenticeship standards designed by employers to ensure they develop the knowledge, skills and behaviours your business needs. We create them in partnership with you to meet your needs and the needs of your employees.
Unlike traditional degrees, apprentices are nominated by employers, who will pay their salary and training costs, rather than applying as individuals. We have apprenticeship partnerships with with a large number of public and private sector organisations, including PwC and several local NHS trusts.
As an employer you can invest your apprenticeship levy or take advantage of the Government co-investment scheme to develop the skills of your workforce through flexible apprenticeship programmes which target business priorities.
Subcontracting rationale
In compliance with the Education Skills Funding Agency (ESFA) apprenticeship funding rules, we have published the University of Leeds rationale for subcontracting within apprenticeship programmes (PDF).
Contact us
If you would be interested in working with us to set up a new apprenticeship scheme or would like more information, please email apprenticeships@leeds.ac.uk
For any other queries, please email the Nexus team on nexus@leeds.ac.uk. The Nexus team will take time to understand your requirements and talk to you about your options.