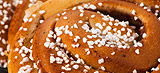 Yorkshire academics have launched a mouth-watering new exhibition exploring the history of the sweet tooth.
The free-to-all exhibition at Wakefield Museum traces the evolution of sweet foods through history, examining their different nutritional roles and reputations within societies dating back to the medieval era.
Visitors will learn the surprising fact that while today we are taught that sugar is bad for us, it was once considered the medieval equivalent of a 'superfood' - a term nowadays reserved for fruits and vegetables full of anti-oxidants such as blueberries, pomegranate and broccoli. The global journey, from plant to plate, of sugar and cinnamon will also be revealed, starting with the story of medieval trade and finishing up with modern trends in nutritional research.
Sugar and Spice and All Things Nice runs until October and forms part of the You Are What You Ate project based at the University of Leeds and funded by the Wellcome Trust. It aims to inform a healthy balanced diet by displaying the enjoyable side of eating, focusing on fashions and customs linked to feasting and entertainment.
A selection of spectacular sugar scultures will be on display, along with images from 500 year old manuscripts. The exhibition will also contain a fun 'hands-on' twist. Visitors will be able to take home modern and medieval recipe cards - allowing them to try for themselves the wide variety of historic ingredients and dishes on show - while also being invited to take part in activities relevant to sweet food throughout the ages, such as crushing cinnamon.
"The aim of the exhibition is to examine why we like eating. What is the historical and scientific basis of food enjoyment?" said Dr Iona McCleery, historian at the University of Leeds and co-ordinator of You Are What You Ate. "Ultimately, we want to celebrate eating sweets and cakes while showing awareness that they must be eaten as part of a healthy, balanced diet"
"Part of the reason that medieval people lived far shorter lives than us was because of disease and unhealthier environments; their diets were not necessarily unhealthier," said Professor Gary Williamson from the School of Food Science and Nutrition at the University of Leeds. "When people in the UK today still die far younger than average - despite the advantages of modern medicine - we should think seriously about diet as a factor".
Dr McCleery added: "Medieval people lived shorter lives that we would not envy - especially the poor - but that does not mean they could not have as much fun with food as we do!"
You Are What You Ate: food lessons from the past is a three year research project funded by a Society Award from the Wellcome Trust. It involves academics from the University of Leeds, the University of Bradford and Cultural Officers from Wakefield Council. Project members are working together to deliver a wide range of school activities, stalls, exhibitions and events.
The Sugar and Spice & All Things Nice exhibition opened earlier this month and runs at Wakefield Museum until 1 October.
For more information
Iona McCleery is available for interview. Please contact the University of Leeds Press Office on +44 (0)113 343 4031 or email pressoffice@leeds.ac.uk
Notes to editors
Full details of the You Are What You Ate project is available at www.leeds.ac.uk/youarewhatyouate
For directions to the exhibition visit: http://www.wakefield.gov.uk/CultureAndLeisure/Castlesandmuseums/Museums/Wakefield/default.htm
Iona McCleery has been lecturer in medieval history at the University of Leeds since 2007, prior to which she held a Wellcome Research Fellowship in the History of Medicine at the University of Durham.

The Society Awards are part of the Wellcome Trust's Engaging Science grants programme which funds projects which engage the public with biomedical science and its social contexts. The Society Awards aim to support public engagement activities which have a significant impact at national or regional level and that address a key need.
The 2008 Research Assessment Exercise showed the University of Leeds to be the UK's eighth biggest research powerhouse. The university is one of the largest higher education institutions in the UK and a member of the Russell Group of research-intensive universities. The university's vision is to secure a place among the world's top 50 by 2015. http://www.leeds.ac.uk/
The exhibition is open Tuesday to Saturday between 10.30am and 4.30pm. Admission is free. For map, visit http://tiny.cc/nusxd