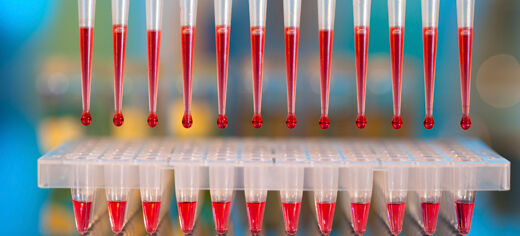 The Leeds Academic Health Partnership (LAHP) has been involved in an initiative to bring a centre of excellence in precision medicine to the city, the government has announced.
Precision medicine uses diagnostic tests and data-based insights to understand a patient's disease more precisely and so select treatments with more predictable, safer, cost-effective outcomes. The UK's research and clinical expertise, combined with government's major investment in relevant research infrastructure, has placed it in a leading position in this area.
The Leeds centre, which will run alongside other similar centres in Belfast, Cardiff, Glasgow, Manchester and Oxford, was compiled by the LAHP, a consortium that brings together ten statutory organisations in Leeds -- the city's six NHS organisations, its three universities and Leeds City Council – into a formal partnership. The aim of the partnership is to harness academic, clinical and professional expertise in order to improve health outcomes, reduce health inequalities and drive economic growth.
It comprises the University of Leeds, Leeds Beckett University, Leeds Trinity University, Leeds Teaching Hospitals NHS Trust, Leeds and York Partnerships NHS Foundation Trust, Leeds Community Healthcare NHS Trust, Leeds South and East Clinical Commissioning Group, Leeds West Clinical Commissioning Group, Leeds North Clinical Commissioning Group and Leeds City Council.
Sir Alan Langlands, chair of the Leeds Academic Health Partnership, said: "This is the first major success for the Leeds Academic Health Partnership and we are delighted that the city has been chosen to be a regional centre of excellence in precision medicine.
"We look forward to bringing wide-ranging research to bear in the field of precision medicine, ensuring better health and better care for people in Leeds and the wider region."
Each centre will act as a hub for regional precision medicine activities within the UK-wide network, co-ordinated from the Precision Medicine Catapult's Cambridge headquarters. The Precision Medicine Catapult is a UK Government initiative, established and part-funded through Innovate UK, the UK's innovation agency, and is part of a network of Catapults across different fields.
The centres of excellence will work on locally driven programmes and use the Precision Medicine Catapult network to harness the breadth of UK expertise, developing innovative technologies and solutions for broader use across the UK's healthcare sector.
A physical presence will be established at each centre, with local recruitment to build expert teams. The centres will work collaboratively with local, national and global stakeholders including government, academia, health systems and SMEs, with broad industry engagement to identify and resolve barriers to building a leading UK precision medicine industry.
Expertise in core areas such as data analytics, clinical trials, regulatory affairs and health economics will be based at the Cambridge head office, along with business services.
Activities across all centres will include support of major clinical and data programmes, such as testing of new precision medicine ready clinical trial models and the development of NHS adoption routes.
Development of new diagnostics, IT and e-health systems are also fundamental to the success of the UK's precision medicine industry, and the Precision Medicine Catapult will work with government initiatives, industry and regulators to build the sector.
Discussing today's Precision Medicine Catapult announcement, John McKinley, CEO of the Precision Medicine Catapult, said: "We're delighted to announce the location of these centres of excellence, each with access to a unique blend of regional expertise. Project development work has been ongoing across the UK and we will be launching offices and related programmes over the coming months. As well as growing the UK's strong position in precision medicine, we believe our network will deliver health and economic impact at a local and national level."
Universities and Science Minister Jo Johnson said: "The UK is a world leader in the life sciences and that's in no small part thanks to innovative firms and academics across the country. As a One Nation Government we are committed to strengthening our capabilities in this crucial sector. These centres of excellence will join together a network of researchers to develop precision medicine technologies that will save lives and support growth in our world-class life science industry."
The funding was announced by Innovate UK and Ruth McKernan, its Chief Executive, said: "It is important that we draw on the UK's research and clinical expertise in precision medicine from across the country. Understanding which types of patients will benefit most from treatments requires effective use of diagnostic testing and data-based insights. The Precision Medicine Catapult's reach to patients for clinical trials purposes will be enhanced through the national network of centres of excellence."

Further information
Please contact Ben Jones in the University of Leeds press office on 0113 343 8059 or email
B.P.Jones@leeds.ac.uk
or Gillian Neild, Head of Communications, Faculty of Medicine and Health on 0113 343 9268 or email
G.Neild@leeds.ac.uk