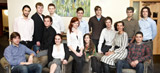 The University of Leeds Enterprise Scholars gathered at a special 'boot camp' at Weetwood Hall earlier this week aimed at boosting their chances of business success.
The two day programme included talks from marketing professionals and experts from the worlds of finance and business. It was funded through the University's Undergraduate Enterprise Scholarship Scheme which rewards budding entrepreneurs with sound business propositions with a package worth £4,000 to help kick start their businesses.
Steve Baker, from VFM Business Advisors presented at the event. He says it's crucial that the scholars formulate a robust business plan early on. "We've been talking students through the process of business planning, to get them thinking about things they need to do for a strong business plan. This will be important for any approaches to potential funders and will help them examine their business ideas fully from a strategic level."
Phil Parkinson, Solicitor at Ison Harrison was also at the event and says that having the right legal and financial knowledge at an early stage can make the difference to long-term success. "It's so much better to get things right from the start, particularly in respect of protecting the intellectual property that underpins their business."
The University of Leeds Enterprise Scholarship scheme has been made possible through generous financial support from Leeds alumni Martin Penny, Neil Munro and Ray Stanbridge, who are themselves highly successful entrepreneurs.
For the 15 scholars funded through the boot camp has been an extremely useful exercise.
Mark Paniagua, who is studying BA (Hons) Hispanic and Latin American Studies holds a Martin Penny Enterprise Scholarship. Mark has acquired a building in Guatemala City which he wants to use as a blueprint for a chain of "home from home" hostels across Central and South America. "The Scholarship is fantastic," he says. "It's so important to get the basics right to avoid mistakes in the future and the boot camp, along with the other things the Scholarship will help to fund are a huge boost to my plans."
The boot camp was organised by the University's business start-up service. Business Advisor Kairen Skelley says initiatives like the boot camp are incredibly valuable to students. "It's a privilege to work with undergraduates with great ideas," she says. "And we're really grateful to the alumni that have made this boot camp possible because it provides a great business foundation for our students."
Second year History of Art student Pritesh Ladwa holds the Neil Munro Enterprise Scholarship. His business The Forest Project and its sister charitable trust of the same name will, he says, benefit hugely from the Scholarship. Pritesh aims to use a disused industrial or agricultural site to plant up to a million trees, creating carbon credits which can be traded. The site will also be used to provide a venue for events, and through the charitable trust, education opportunities will be provided for schools. "We've bid for a site close to Cheltenham, Stratford and Banbury," he says. "So it's still early days, but the scholarship is enabling me to gain skills and spend some time focusing on the business."
The Ray Stanbridge Enterprise Scholarship is held by 3rd year Philosophy and Management student, Edward Pinkney, whose business focus of promoting health and wellbeing in the workplace is targeted particularly at the NHS. Other scholars at the boot camp included James Taylor who wants to set up an environmentally friendly food and drink brand, Joshua Quarrie who is currently setting up a business buying, selling and renting laptops to students and business partners Nick Simm and Chris Taylor whose business is based on helping companies meet their Carbon Reduction Commitment targets.
For further information:
Please contact the University of Leeds Press Office on +44 (0)113 343 4031 or email pressoffice@leeds.ac.uk