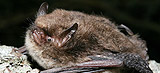 A type of bat never seen before in the UK has been found visiting caves in Yorkshire and Sussex.
Myotis alcathoe, or Alcathoe's bat, was identified by a research team led by Professor John Altringham at the University of Leeds and Professor Roger Butlin of the University of Sheffield during a Europe-wide study of bat population ecology and genetics.
Alcathoe's bat - which is about the size of the end of a person's thumb - was 'discovered' in Greece in 2001 and is a native of continental Europe. But until now, it was presumed that the English Channel acted as a barrier which had prevented it reaching the UK.
In Yorkshire the bats were found in a Forestry Commission woodland in Ryedale in the North York Moors National Park, a biologically rich site that was home to the north of England's last known colonies of rare barbastelle and lesser horseshoe bats over 50 years ago.
The southern sites are in the South Downs of Sussex, a wooded area known for a number of rare woodland bat species. Alcathoe's bat may well be present in many other parts of the country.
The researchers believe the bat is actually resident in the UK but has not been spotted before because its appearance is so similar to other bat species.
Professor Altringham said: "Over a third of the UK's native land mammal species are bats, making them by far the biggest contributor to our mammalian diversity. This discovery takes the number of bat species established in the UK from 16 to 17.
"Most of the bats were captured as they entered underground 'swarming' sites, where bats gather to mate before going into hibernation. A single swarming site, usually a cave or disused mine, can attract thousands of bats of ten or more species. This makes them good places to look for rare species.
"Its presence at sites 350 km apart suggests that Alcathoe's bat is a well-established, resident species. Preliminary evidence suggests that it makes up a significant proportion of the small Myotis bats at both the Yorkshire and Sussex sites. Its close resemblance to two other UK species means it has gone unnoticed."
Professor Butlin said: " Our genetic analysis* (mitochondrial and nuclear DNA) places Alcathoe's bat as a very close relative to the whiskered bat (M. mystacinus) a widespread but relatively uncommon UK species. These two species and a third, Brandt's bat (M. brandtii), are so similar in appearance that identification based on appearance alone can be difficult even for the unwary expert."
Prof Altringham added: "However, Alcathoe's distinctive echolocation call, which terminates at a significantly higher frequency than those of its relatives (43-46 kHz), alongside some subtle physical differences makes identification possible without genetic analysis.
"Although similar in appearance these three bats may prove to be ecologically quite different. The separation of the common pipistrelle into two species in the 1990s led to the discovery that despite their physical similarity they have significantly different roosting habits, feeding habitat and food."
Brian Walker, Forestry Commission Wildlife Officer for the North York Moors, said: "We have some incredibly rich bat habitats in North Yorkshire and it was only a few years ago that work locally helped to confirm that the common pipistrelle was actually made up of two different species. The discovery of Alcathoe's bat is another first to add to the record books."
A photograph of Alcathoe's Bat is available on request. Image courtesy of Cyril Schünbächler.
For more information, contact:
University of Leeds on 0113 343 4031 or email pressoffice@leeds.ac.uk.
Professor John Altringham, Institute of Integrative and Comparative Biology (IICB), University of Leeds email j.d.altringham@leeds.ac.uk.
Lindsey Bird, Media Relations Manager, University of Sheffield, 0114 222 5338 or email l.bird@sheffield.ac.uk.
Professor Roger Butlin, Dept. Animal and Plant Sciences, University of Sheffield r.k.butlin@sheffield.ac.uk
Notes to editors
The UK now has 17 species of bat, all small (3.5-30 g) and insectivorous and all protected by law due to their declining numbers. Worldwide there are almost 1200 species - with a diversity unparalleled by any other group of mammals.
*Genetic analysis is carried out on a tiny piece of wing membrane. The tissue grows quickly, resealing the small hole, so the bats come to no harm and many have been recaptured several times over the years. The first individual to be confirmed as Alcathoe's bat was sampled back in 2003 and caught again, fit and healthy, in September 2009. The genetic work was conducted with the help of the NERC Biomolecular Analysis Facility in Sheffield.
The Faculty of Biological Sciences at the University of Leeds is one of the largest in the UK, with over 150 academic staff and over 400 postdoctoral fellows and postgraduate students. The Faculty is ranked 4th in the UK (Nature Journal, 457 (2009) doi :10.1038/457013a) based on results of the 2008 Research Assessment Exercise (RAE). The RAE feedback noted that "virtually all outputs were assessed as being recognized internationally, with many (60%) being internationally excellent or world-leading" in quality. The Faculty's research grant portfolio totals some £60M and funders include charities, research councils, the European Union and industry.
The 2008 Research Assessment Exercise showed the University of Leeds to be the UK's eighth biggest research powerhouse. The University is one of the largest higher education institutions in the UK and a member of the Russell Group of research-intensive universities. The University's vision is to secure a place among the world's top 50 by 2015.
The University of Sheffield's Department of Animal and Plant Sciences is one of the largest departments in the UK devoted to the study of whole organism biology. We form one of three parts of the School of Biological Sciences, together with the Department of Molecular Biology & Biotechnology, and the Department of Biomedical Sciences, with a combined teaching staff of over 100. Our teaching, informed by our research, covers cells and genes, the behaviour of individuals, and the functioning of populations, communities and ecosystems. In the latest Research Assessment Exercise (RAE 2008), Biological Sciences at Sheffield was ranked joint 3rd in the UK based on average quality score and 3rd in the UK based on the proportion of 'world-leading' (4*) and 'internationally excellent' (3*) research activity.