Sir Alan Langlands

Alan Langlands is the twelfth Vice-Chancellor of the University of Leeds. Before joining the University, he was the Chief Executive of the Higher Education Funding Council for England, responsible for promoting and funding high-quality education and research in universities and colleges with higher education programmes.
Steph McGovern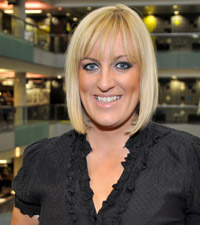 One of the most recognisable faces on TV, reporting from the worlds of international business and finance, Steph is established as part of the BBC Breakfast team, covering business developments daily, and regularly taking to the sofa as main co-host.
Her first TV appearance was on a programme about women in science. She had just won the title of Young Engineer for Britain, after saving Black & Decker over £1million on a design for their Leaf Hog product. This led to work experience on Tomorrow's World and, eventually, to producing the financial news on Radio 4's Today programme. During the financial crash Steph was the lead producer of business news on all BBC bulletins, working with business editor, Robert Peston, at the forefront of the award-winning coverage of the credit crunch and banking crisis.
She soon began broadcasting herself, presenting on 5Live's On The Money and hosting her own feature - Steph's Sunday Shift - where she spent time in over 50 different workplaces across the UK, including a gas rig in the Irish Sea, an air traffic control centre and a nuclear power station. As well as her media work, Steph is involved in community and education projects and is a former champion Irish dancer.
Roger Marsh
Roger Marsh is Chair of the Leeds City Region Enterprise Partnership (LEP), the public – private sector partnership promoting the Leeds City Region's interests nationally and internationally, supporting enterprise and businesses. Since becoming Chair, he has secured the country's largest Local Growth Deal settlement - bringing over £1bn of investment to the region. As a member of the HS2 Growth Task Force and West Yorkshire Combined Authority Board, Roger has played a prominent role in shaping the future of the region's major transport infrastructure. In partnership with civic leaders, he continues to pursue the LEP's vision to develop the Leeds City Region as an economic powerhouse. Roger has managed change at the highest level of Government, major businesses and companies implementing sensitive projects in times of transition and for long term financial health. He was awarded an OBE in the Queen's birthday honours list in 2015 for Services to Business and the Economy.
Lucy Thornycroft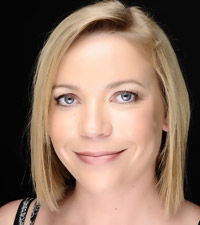 Lucy was appointed Regional Director for the Yorkshire and Humber Region in December 2014, prior to which she had led the Construction and Housing Team in London since joining the CBI in January 2012. This role dealt with issues at the heart of the CBI's mission to secure private sector growth in construction and housing. Lucy also ensures that construction issues are embedded into wider CBI policy work on areas such as infrastructure investment and delivery, PFI reform, planning policy, employment and skills, industrial policy and boosting the role of mid-sized businesses. Prior to joining the CBI Lucy worked in a range of roles in the private and public sector, most recently as Head of Investment Policy and Strategy at the National Housing Federation.
Lesley Thompson
Lesley joined Elsevier in November 2015, and prior to this, was Director, Programmes, in the Engineering and Physical Sciences Research Council responsible for managing the overall EPSRC portfolio, commissioning £740 million per year for research and postgraduate training in engineering and the physical sciences and external stakeholder relationships. She joined the Research Councils in 1989 and enjoyed several roles over a 26 year career including chairing the RCUK Research Directors group for 2 years. She played a key role in the introduction of Centres for Doctoral Training (CDTs) in the EPSRC having introduced the concept in 2001. Until October 2015 she was a non-executive Director of UK Shared Business Services Ltd (UK SBS).
Throughout her career she has championed interdisciplinary research and the issue of diversity in research. She is currently a member of the Royal Society's Diversity Committee.
Bill McElroy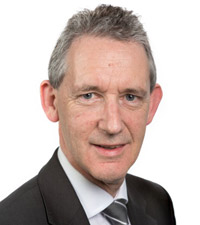 Bill has over 30 years' experience in programme and project management, from capital investment to organisational change, and strategic advice. He has worked across both public and private sectors, including transportation, finance, power, water petrochemicals and FMCG, with direct responsibility for the direction and governance of large project management operational units. He has specific responsibility on the UK Board for Turner & Townsend's engagement and involvement in the Devolution agenda across the UK. Having previously been Chair of bodies providing senior industry support to the Government's Chief Construction Adviser, Bill has been involved in the implementation of the cross industry recommendations from the Infrastructure UK 'Cost Review'. He also led Turner & Townsend's editorial input to the 'Infrastructure Project Initiation Routemap', published by HM Treasury in July 2014. Bill is currently a member of the Programme Committee for the Major Projects Association.
John Fisher
Professor John Fisher is the University of Leeds' first Deputy Vice-Chancellor. He supports the Vice-Chancellor across a range of activities focusing on academic strategy, academic development and leadership of nine academic Faculties, with over 3000 academic and research staff and 30,000 students.
He is active as a leading researcher in Medical and Biological Engineering, and is a Director of the Institute for Medical and Biological Engineering and the Wellcome Trust/EPSRC Medical Engineering Centre. He also holds directorships of the EPSRC Innovation and Knowledge Centre in Medical Technologies, the EPSRC Centre for Innovative Manufacturing in Medical Devices, the N8 Centre for Regenerative Medicine and the White Rose Doctoral Training Centre in Tissue Engineering and Regenerative Medicine. He is co-director of NIHR Leeds Musculoskeletal Biomedical Research Unit and was co-founder of University spin out Tissue Regenix Plc. He provides leadership to over 100 academic researchers in Medical Engineering at Leeds.
Graham Isaac
Graham Isaac is a Distinguished Engineering Fellow for Hips World-Wide within the R&D organization of DePuy Synthes Joint Reconstruction based at the Leeds facility. This includes working with internal and external teams developing innovative solutions that meet the evolving and varying needs of patients, surgeons, hospitals, the payer (eg NHS, insurance companies), insurance companies and policy makers. Additional roles include monitoring the performance of hip products and managing external research collaborations with universities. In this last role Graham has had a long standing relationship with, amongst others, the Institute of Medical and Biological Engineering at the University of Leeds where he is a Visiting Professor. He has co-authored over 60 papers in scientific journals.
Graham holds a BSc in Physics, a MSc in Materials and a PhD in Metallurgy, all from the University of Leeds.. Following his PhD he completed a Post-Doctoral Research Fellowship analysing revised total hip replacements carried out at the University of Leeds and Wrightington Hospital. He is registered as a Chartered Engineer, being a Fellow of the Institute of Mechanical Engineers