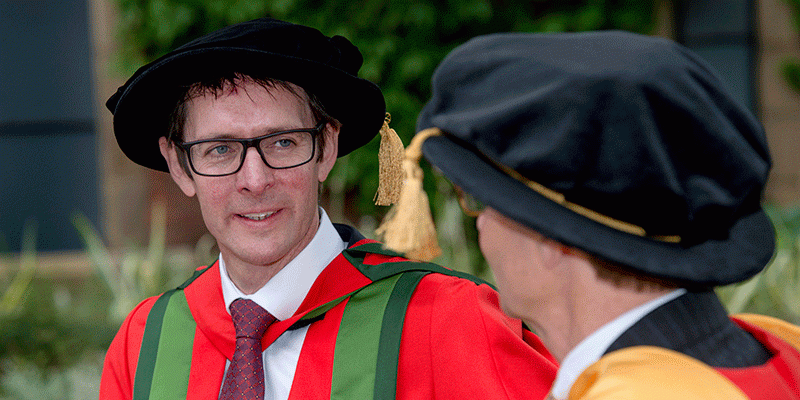 Formula 1 Grand Prix racing is regarded as the pinnacle of motorsport and, even if we are not die-hard aficionados, most of us are familiar with the names of recent world champions. Less familiar, however, are the names of the men and women who provide the expertise and infrastructure essential to the performance of those champions and their cars. Today we celebrate one of the most successful and distinguished of that supporting cast: Andrew Shovlin, the Chief Race Engineer for the highly successful Mercedes AMG Petronas F1 team.
Andrew arrived in Leeds to start his undergraduate course in Mechanical Engineering in 1992. His final-year project on the mathematical modelling of car suspension systems directly led to a PhD project, under the supervision of the late Professor Dave Crolla, on the dynamics of military logistics vehicles. As a member of Dave's renowned Vehicle Dynamics research group, Andrew presented his work at several international conferences, at one of which he was awarded the prestigious Institution of Mechanical Engineers Viscount Weir prize.
As well as chasing Challenger Tanks around the North York moors as part of his PhD project, Andrew also found time to become involved with our early Formula Student race car activities: he travelled with the team to the US when, in 1997, we became the first UK university to enter the Formula SAE event.
After receiving his PhD in 1998, Andrew joined British American Racing, the start of his highly successful career in Formula 1. He went on to became Jenson Button's race engineer – the person responsible for crucial decisions about car setup and race strategy before and during a race – and was much acclaimed when Jenson won the world championship with Brawn in 2009. Andrew became Michael Schumacher's race engineer the following year, when Mercedes took over Brawn; and was then promoted in 2011 to be chief race engineer for Mercedes. In that role, he has helped secure three successive world titles, for Lewis Hamilton and Nico Rosberg, as the team has come to dominate the sport.
Despite his busy and demanding career in motorsport, Andrew has not forgotten his alma mater, and has returned frequently to give talks to our students and to offer advice to our current Formula Student team. And it is perhaps no coincidence that in recent years we have had at least one of our students undertaking a much sought after year-long work placement at Mercedes F1.
Through his outstanding success in the demanding world of Formula 1 racing, Andrew is a great ambassador for automotive engineering at Leeds, and a true inspiration to our students.
Vice-Chancellor, I present to you for the degree of Doctor of Science (Engineering) honoris causa, Andrew Francis Shovlin.