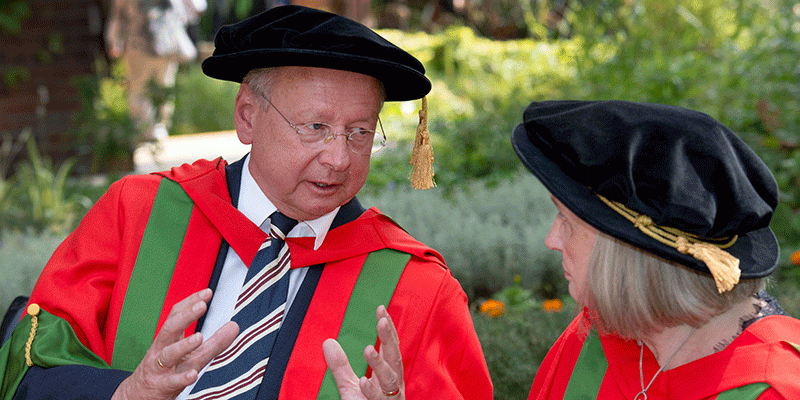 Presentation address by Professor Peter Selby
Vice-Chancellor,
Today, we honour a brilliant scientist and distinguished alumnus whose professional life is devoted to developing drugs to help cancer patients around the world.
Professor Paul Workman is Chief Executive and President of the Institute of Cancer Research (ICR), one of the world's most influential cancer research organisations.
Developing new ways to fight cancer is a complex, painstaking process. The discovery of a potential drug precedes lengthy clinical trials to determine whether the breakthrough can be translated into a deliverable treatment for patients. In the last decade, Paul's ICR research unit has identified twenty clinical drug candidates, nine of which have reached the clinic in phase I trials. This is an extraordinary statistic.
Driving new drugs from the laboratory to the clinic also involves individuals from many disciplines working effectively together. The leadership of these teams requires more than scientific and managerial skills. Paul brings humanity to this perhaps overlooked aspect of scientific endeavour, consistently valuing the contribution and careers of his colleagues and recognising their part in success.
An outstanding academic track record of publishing world-leading papers – Paul's name appears on more than 470 research articles - and winning large grants for work of the highest scientific quality attests to his talent. Paul is a Fellow of the Royal Society and the Academy of Medical Sciences, and his numerous awards include the prestigious American Association of Cancer Research Team Science Award.
Paul was born in Workington, and a showed an early talent for snooker and a passion for Carlisle United growing up. He came to Leeds – already renowned for cancer research – to complete his PhD in cancer pharmacology in 1977. The Leeds Pharmacology department at the time was highly sociable, and staff could sometimes be found in the Faversham pub on Friday nights. It was here that Paul rubbed shoulders with another young scientist and Leeds alumnus who would go on to have his own outstanding career, Professor Craig Jordan.
In 1976, Paul moved to the Medical Research Council's Clinical Oncology Unit at the University of Cambridge, before joining Stanford in California in 1990. Spells at Glasgow and four years in industry followed before his appointment at the ICR in 1997 as Director of Cancer Therapeutics and Director of its Cancer Research UK Cancer Therapeutics Unit.
Promotion to Chief Executive of the ICR followed in 2016, the culmination of an outstanding career over four decades.
Vice-Chancellor, I am delighted to present to you for the degree of Doctor of Science, honoris causa, Paul Workman.