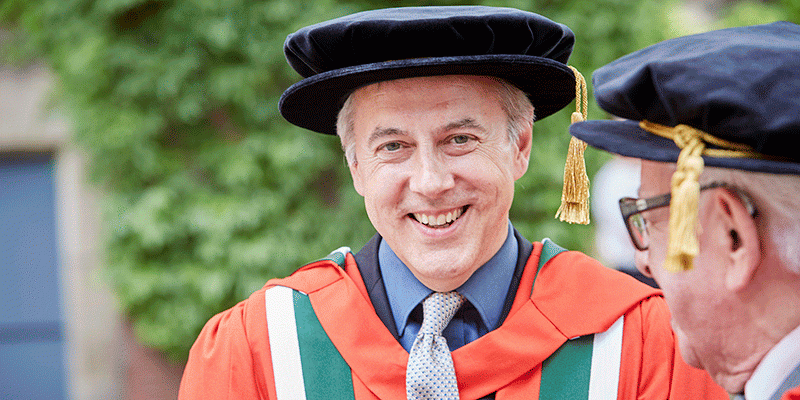 Presentation address by Professor Vivien Jones
Chancellor,
Those of us who had the pleasure of experiencing Opera North's breath-taking semi-staged performances of Wagner's Ring cycle last season will be well aware of Richard Farnes's brilliance as a conductor of opera. This Ring was the triumphant culmination of a project begun in 2011 with Das Rheingold, and a fitting conclusion to Richard's twelve years, from 2004 to 2016, as Music Director at Opera North, years during which the company enhanced and confirmed its reputation for excellence and daring. Small wonder that the Ring won the 2017 Royal Philharmonic Society Opera and Music Theatre Award, and that Richard was named Conductor of the Year.
Richard's musical career began as a boy treble in the choir of King's College, Cambridge, where he later returned as Organ Scholar to read Music, before going on to study at the National Opera Studio, Guildhall School of Music, and the Royal Academy of Music where he won both the Henry Wood and the Philharmonia Chorus conducting scholarships.
His debut with Opera North came in 1994 with a revival of Phyllida Lloyd's wonderful production of Britten's Gloriana starring Josephine Barstow; he attracted significant attention in 2001 when he conducted a new production of Verdi's Otello at Glyndebourne; and he made his Royal Opera debut in 2002 with Verdi's Simon Boccanegra, recently returning to Covent Garden for more Verdi – this time, Il Trovatore. Much in demand, he has worked with many national and international companies, including Scottish Opera, English National Opera, New Israeli Opera, the Russian National Orchestra, and Ireland's RTḖ National Symphony Orchestra.
Richard's repertory at Opera North has been distinguished for its eclecticism: exciting productions of familiar operas, together with lesser-known works and premières, including David Sawer's Skin Deep and Simon Holt's The Nightingale's to Blame. His personal highlights (other than the Ring) reflect that eclecticism: Verdi's Don Carlos, Janàček's From the House of the Dead, Bartók's Bluebeard's Castle, Britten's Peter Grimes, and Mendelssohn's A Midsummer Night's Dream. Those who have worked with him ascribe the consistently high quality of these productions, and of the many more he directed during his time at Opera North, to his strong sense of partnership with his orchestra and singers. As he himself has said, 'As Music Director, you have to use your own ideas to complement, not dominate'; and as others say of him: 'He doesn't impose himself on the music'; rather, 'he has always done his best to honour whatever score is put in front of him.'
Richard is much missed by Opera North and its audiences. As one of this fantastic company's key cultural partners, the University is honoured to recognise his achievements both at and beyond Opera North, and to wish him continuing success in the freelance career on which he has now embarked.
Chancellor, it is my privilege to present to you for the degree of Doctor of Music, honoris causa, Richard Haworth Farnes.