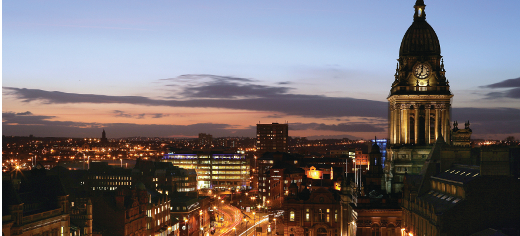 Choosing the 23rd of the month to launch the bid for 2023, the city officially declares Leeds will be in the race.
If Leeds is successful in its bid to become the European Capital of Culture 2023, the city will host a year of cultural events to showcase and celebrate art and culture.
The University, with its rich heritage of creativity and culture, plays an important part in the cultural life of the city through the recently launched Cultural Institute, and is backing the bid as its principal academic partner.
Professor Frank Finlay, Executive Dean of the Faculty of Arts, Humanities and Cultures, is on the Leeds 2023 independent steering group. He said: "This is an opportunity to promote the city on an international stage as a very vibrant, diverse and dynamic place to come and study, work and live."
Jamie Ali, Leeds University Union's Community Officer, said: "LUU has been playing an active role in making sure the 34,000 students we represent are involved in the bid, which presents a fantastic opportunity for Leeds."
Sharon Watson, chair of the Leeds 2023 steering group, said: "Today marks one of the most exciting milestones so far in our journey towards 2023 as we officially throw the bid open to the people of Leeds and ask them to tell us what they would like to see in a 365 day cultural programme.
"It has always been our ambition that people living and working in Leeds feel the bid is truly collaborative, that it belongs to them and that they've been given a chance to shape and influence it each step of the way."
Councillor Judith Blake, leader of Leeds City Council, added: "The people of Leeds will be the real driving force behind making this bid the success we know it will be, and it's their ideas and enthusiasm which will make all the difference."
European Capital of Culture
The European Capitals of Culture is an initiative designed to highlight the richness and diversity of cultures in Europe and raise the international profile of cities.
The lead-time for the coveted title is long, with cities submitting proposals for consideration six years in advance of the title-year.
Together with Hungary, it has been agreed that a UK location will next host a European Capital of Culture in 2023, with deadlines for applications expected to be in the late autumn of 2017.
The successful city will be announced in 2018.
Glasgow was European City of Culture in 1990 and Liverpool secured the title in 2008. Liverpool saw a £753.8 million boost to the economy and a 34% rise in visitors to the city.
Follow the bid's progress on Twitter @leeds_2023
Further information
www.leeds.ac.uk/cultural_institute
In addition to strong research and student activities, the University offers access to a host of cultural treasures:
The Brotherton Library's outstanding Special Collections
Museums and unique archives, like The South Bank Show and the M&S Company Archive of 70,000 items dating back to 1884
Art galleries, cultural venues, facilities for performance and art-making, such as our newly-refurbished School of Fine Art, History of Art and Cultural Studies
An ever-expanding public art trail
Theatres and concert halls, including stage@leeds and in the students' union, which is regularly voted one of the best in the country
For further information, contact the University of Leeds press office on 0113 343 4031 or email pressoffice@leeds.ac.uk