Arts & Culture news archive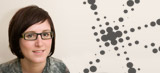 Acclaimed theatre designer Becs Andrews joins a group of University of Leeds artists and performers on a mission to create new work, inspire and bring a range of arts into the community.
A theatre company is looking for 30 teenagers to join a free open-air production of Dante's Inferno in Millennium Square, Leeds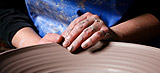 A new exhibition at the University of Leeds will see ceramic artworks made by customers from a local centre for people with disabilities sit alongside some of Yorkshire's most historic ceramic art.
With this year's Eurovision Song Contest looming, Professor Derek Scott from the University of Leeds has written what he believes to be the 'perfect' entry.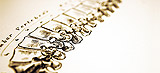 Yorkshire academics are to host a history lesson with a difference. Members of the public will get the chance to inspect real human remains, in an effort to examine how eating habits affect the body.