Arts & Culture news archive
Former Poet Laureate Sir Andrew Motion and pianist Ian Buckle will appear at the University of Leeds to give a special performance celebrating the poems of Philip Larkin.
Professor Greg Radick of the department of Philosophy has been awarded a prestigious prize by the History of Science Society for his book The Simian Tongue: The Long Debate about Animal Language.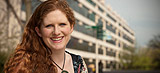 University of Leeds composer Cheryl Frances-Hoad has picked up two prizes at the prestigious 2010 British Composer Awards.
Royal intrigues are by no means a modern phenomenon - medieval monarchs were involved in conspiracies and cover-ups, according to best-selling author Ian Mortimer.
One of Africa's most acclaimed authors is to make a rare public appearance at the University of Leeds.