Society & Politics news archive
Primary schools should do more to change the way children think about disabilities, according to new research from the University of Leeds.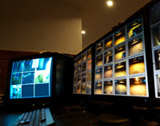 Engineers at Leeds are playing a leading role in designing an intelligent CCTV system.
Toy makers need to urgently review their safety tests say scientists, after showing that children as young as three can have the bite force of the average dog.
A new House of Lords report has strongly criticised the powers given to Government to deal with civil emergencies.
A major University of Leeds initiative has joined forces with two leading African scientific organisations and is working to improve human health and prevent future food crises in sub-Saharan Africa.